Connect with your social network account
Open Street Map Editor is Open
Maps of climbs, cobbles and white roads will be opened in a second time.
We are aware that there could be a problem in tracking in North America and some other small countries and we will fix them in a second time.
We are aware that labels of sprints disappears at click, for the moment it's a design choice.
In case of other bugs, please report them in
this topic
.
Please don't spam us mail and PMs that
we won't answer
. Everything related about the situation will be published on that topic and that topic
only
.
Contests currently open
-
Vuelta a Espana 2018
(Cat. 1, deadline on 25/8)
-
Binckbank Tour
(Cat. 2, deadline on 25/8)
BinckBank Tour (Cat. 2)
Contest #9 time.
The ninth contest will be about BinckBank Tour. You must draw a better route for the World Tour Race that suits the following
- Seven day of race
- One ITT only, short. (No more than 15 Kms) or a prologue
- Final stage will end in Geerardsbergen
- Both Netherlands and Belgium must be involved in the route
- You can add Luxembourg but isn't mandatory.
- You can do (really) short segments of stages in French and Germany, not above 10 kms per segment
The route must present the different features of the land proposed
Deadline is 25/8/2018 at 23.59
Software Engineer, Cycling Fanatic
---
BinckBank Classics Tour
(Mauro)
maps/tours/view/10051
Il mio percorso è una rivisitazione del BinckBank Tour, trasformato in un Classics Tour, una corsa a tappe disputata sulle strade delle grandi classiche. La prima tappa si disputa quindi sulle strade dell'Amstel Gold Race, la seconda è dedicata al vento che spesso le condiziona, la terza è sulle rotte della Freccia Vallone, la quarta su quella della Liegi, la quinta si conclude all'uscita di uno dei tratti più celebri della Roubaix e l'ultima è una cronometro con epilogo sul Muro di Grammont, tempio del Giro delle Fiandre.
Anche per questo motivo ho voluto che tutte le tappe fossero importanti per la classifica, anche l'unica dedicata ai velocisti e che potrebbe essere fortemente condizionata dal vento (anche perché, rispetto alla tappa del Tour del 2015, c'è un circuito finale sul ponte-diga dell'isola artificiale di Neeltje Jans)
Inseriti due sconfinamenti: i primi 9,5 Km della prima tappa sono in territorio tedesco e gli ultimi 7,5 Km della quinta tappa sono in territorio francese
My path is a reinterpretation of the BinckBank Tour, transformed into a Classics Tour,a stage race disputed on the streets of the great classics. The first stage is then played on the streets of the Amstel Gold Race, the second is dedicated to the wind that often affects them, the third is on the routes of the Flèche Wallonne, the fourth on that of Liege, the fifth ends at the exit of one of the most famous features of Roubaix and the last is a stopwatch with epilogue on the Wall of Grammont, temple of the Tour of Flanders.
Also for this reason I wanted all the stages to be important for the classification, also the only one dedicated to the sprinters and that could be strongly influenced by the wind (also because, compared to the 2015 Tour stage, there is a final circuit on the bridge-dam of the artificial island of Neeltje Jans)
Two overdrafts are included: the first 9.5 km of the first stage are in German territory and the last 7.5 km of the fifth stage are in French territory
---
Mauro you forgot one stage in your tour
---
My BinckBank Tour 2018:
maps/tours/view/10042
General Presentation:
- Total length: 1123,31 km
- 1 prologue, 1 flat stage, 3 hilly stages, 2 cobbles stages
- 4 countries visited: Belgium, Netherlands, Germany and Luxembourg.
- Climbs: 23 4th Category, 10 3rd Category and 3 2nd Category.
Prologue:
Antwerpen > Antwerpen (ITT - 12,55 km)
Yes, this is a prologue! An ITT is considered as a prologue when it's under 13 km. We start in the famous port of Antwerpen.
life poems
1st stage:
Antwerpen > Cuijk (Flat - 203,52 km)
This stage is globally flat, except a categorized climb in the last 30 km to decide the first KOM jersey. This stage is surely for sprinters. We're in Netherlands so riders should take care of wind.
life poems
2nd stage:
Cuijk > Aachen (Hilly - 191,50 km)
This stage is travelling the roads of Amstel Gold Race, with some new climbs like the Ingbererberg and Côte de Beusdael, in Belgium, and it finishes in Germany with the city of Aachen which is very close to belgian and dutch border. We're in Germany less than 5 km.
life poems
3rd stage:
Aachen > Vielsalm (Hilly - 147,07 km)
This stage is climbing some famous climbs like Redoute or Stockeu, but new climbs are introduced in this stage like Col de Targnon or Montée du Paradis. This stage can be very interesting due to proximity of climbs in the last km's.
life poems
4th stage:
Vielsalm > Luxembourg (Hilly - 177,20 km)
The country of Luxembourg is very hilly, as we can see in this stage. Climbs can be very steep, like Rollingerberg or Beringerberg that I found myself. These climbs can be launchers for punchers.
life poems
5th stage:
Arlon > Wavre (Plain - 209,40 km)
This is the longest stage of this BinckBank Tour. The cobbles aren't really hard but they can be with the last very exhausting days. The end of the stage with the cobbles is a little bit hilly so gaps may appear.
life poems
6th stage:
Wavre > Geraardsbergen (Hilly - 182,07 km)
Today for the last stage, we're on the roads of Ronde Van Vlaanderen, which are not enough exploited in real BinckBank Tour in my opinion, but I kept the traditional finish in middle part of Kapelmuur.
life poems
Thanks for reading, good luck.
---
---
Spettatore
Posts: 2
Joined: 21/05/2018, 2:16
[quoteDataPCMDumo post id=/maps/viewtrack/233417
---
This is my version of the BinckBankTour
maps/tours/view/10093
This BBTour is 7 days long and contains 2 plain sprint stages, 1 time trial, 3 hilly stages and 1 stage with cobblestones.
Stage 1 starts in the north of The Netherlands and finishes after 170km in Veenendaal. The Golden KM is 8,5 km before the finish and lays on a little hill.
Stage 2 starts in Rhenen at the gates of the zoo 'Ouwehands Dierenpark'. The finish is in Belgium in Mechelen in front of the zoo 'Planckendael'. Just 165 km for this second flat stage.
Stage 3 is a short time trial in the Dutch city Valkenswaard. Just under 15 km long. This is the first important day for the GC riders.
Stage 4 is a mini-Amstel Gold Race. A lot of turning and little steep climbs in the Dutch Limburg province and Belgium. The finish lays on top of het Drielandenpunt (Three Countries Point) on the border of Belgium, The Netherlands and Germany.
Stage 5 brings Luxemburg in this BinckBank Tour. The initial purpose of the ENECO-tour was a stage race in the Benelux. So i took Luxemburg in my race. A difficult hilly race with finish in Wiltz.
Stage 6 is a plain stage and brings us from Wiltz through the Arden-region to Perwez. It will not be a hilly race but its a cobbled stone race at the end. Important and difficult for some GC-riders it hink.
Stage 7 is the well know stage to Geraardsbergen with finish on the Muur. The final day will bring a spectacular race.
I hope you all like my version.
---
My entry for this contest:
maps/tours/view/10296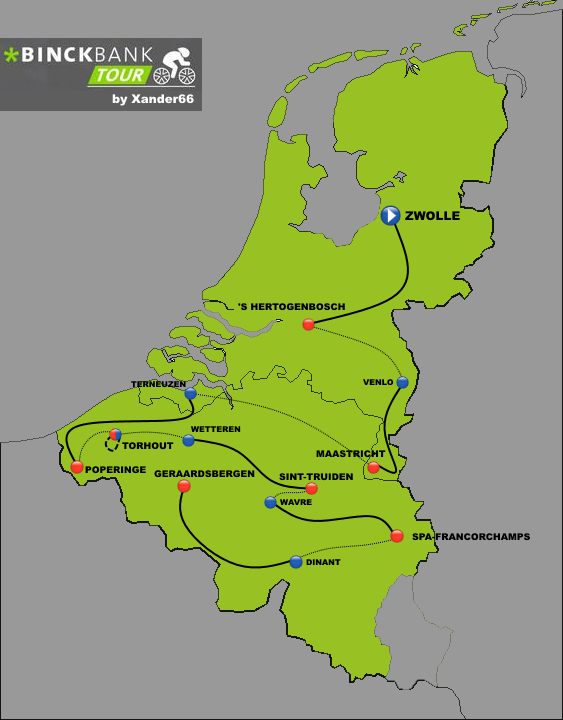 Stage-by-stage description coming soon...
---
My Binckbanck Tour is a real hard one. To begin with two flat possibly windy stages. Third stage is a short ITT, and then we have four stages for the classics riders.
maps/tours/view/10036
Spoiler!
---