Connect with your social network account
Facebook login is not available anymore due to Facebook policy. If you need access to your old account send a mail with username and your actual mail.
IMPORTANT: Routing and Elevation API are limited to 7000 calls per day.
In case they are expired, they won't work until limit is re-charged. You can try in this case to do a GPX on
RideWithGPS
site and import it on the editor
Please don't spam us mail and PMs that we won't answer
and notice that the official language of forum is English.
Roadbooks:
LINK
Comment with us the races in the discussion thread or in the Telegram Chat
2021 Season Contests
Contest #3:
Improved Spring Classic - VOTING
Contest #4:
Giro d'Italia
Direttore Sportivo terza divisione

Posts: 803
Joined: 17/05/2011, 15:47
Location: Milano
Contact:
Contest #2 - Milan-Rome and Bissagne-Languedoc[Cat. 2]
For the 2nd contest of the season, you are asked to re-elaborate Paris-Nice and Tirreno-Adriatico in the way to move the core of the race in the opposite country.
The race you should design shall follow these standards
Milan-Rome (instead of Paris-Nice)
- 8 stages, from sunday to sunday
- First stage is a stage for sprinters but with hilly/moved final, so not necessarily a mass sprint. Shall be near Milan (personally reccomending north zone near Monza)
- You then get some stages for sprinters, some stage for puncheurs and an ITT of 30 kms
- Stage 7 shall be a MTF
- Stage 8 shall end in Rome and be a short mountain stage that can made some gaps like stage 8 of Paris-Nice
Bissagne-Languedoc (instead of Tirreno-Adriatico)
- 7 stages from wednesday to tuesday
- First stage shall be near bissagne gulf zone (so near Bayonne) and last stage shall be near Languedoc sea zone (near Beziers, Narbonne, Perpignan at your choice)
- Stages 1-3 and 6 can be flat/small hilly stages at your choice but at least 2 shall be for sprinters
- Stage 4 (saturday stage) shall be a MTF
- Stage 5 (sunday stage) shall be an hilly hard stage (like Castelfidardo of Tirreno)
- Stage 7 shall be the final ITT
Race shall so be similar to their real counterpart, just switching the race zones. For Milan-Rome you are not allowed to leave Italy (with exception of San Marine and Vatican City) and for Bissagne-Guascogne you are not allowed to leave France
Deadline is April 4, h 23.59
Software Engineer, Cycling Fanatic
Spettatore
Posts: 22
Joined: 24/08/2016, 9:34
Location: Eindhoven
Milano Roma 1280 Km
maps/tours/view/18199
Come richiesto nelle regole del contest si è cercato di tenere la corsa simile alla Parigi Nizza d quest'anno ma visto che era richiesta una crono di 30 km a fronte de 14 previsti nella vera corsa s è pensato di indurire leggermente il percorso.
Prime tre tappe pianeggianti ma attenzione alla prima con arrivo su rettifilo in salita dopo un finale nervoso. la seconda presenta una salita con pendenze durissime a circa 50 Km dalla conclusione ma per il resto è piana.
La terza è completamente pianneggiante.
La quarta e la quinta sono piene di mangia e bevi con alcune salite anche impegnative. Sesta tappa di montagna con quattro colli. Per evitare il pericolo neve si è deciso di non affrontare altitudini elevate. La massima altitudine supera appena i 1500 metri.
Ultima tappa breve con vari saliscendi e pendenze arcigne su pavè
Prima tappa Domenica Milano Cantù
Tappa pianeggiante nella prima parte, mossa nella seconda. Attenzione al finale perchè dopo un breve dentello l'arrivo è un rettifilo in salita all'8%. sono solo trecento metri ma qualcuno potrebbe fare la volata lunga.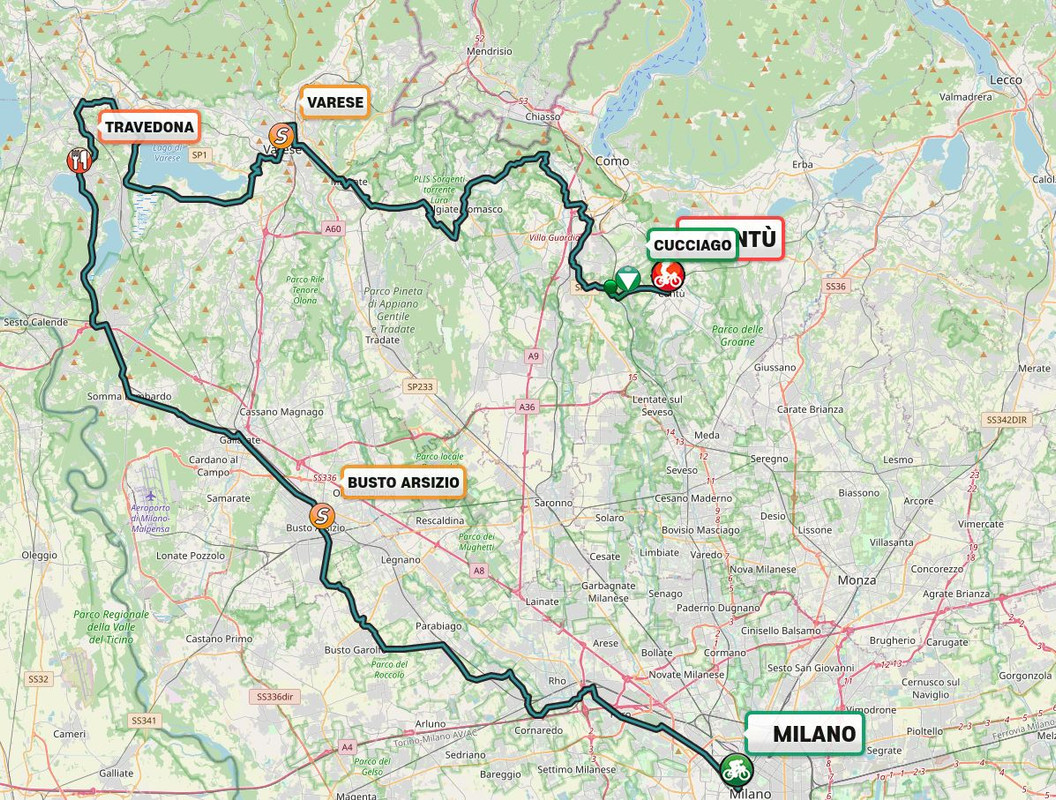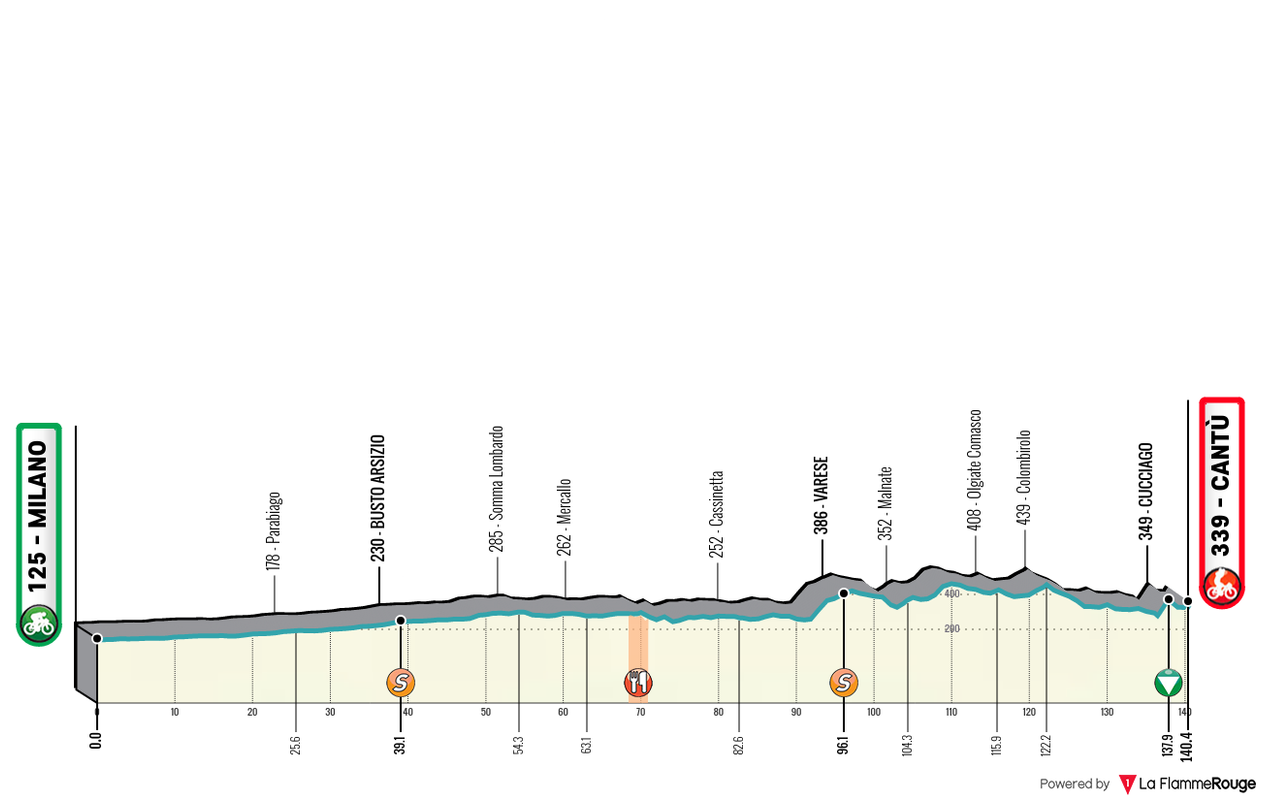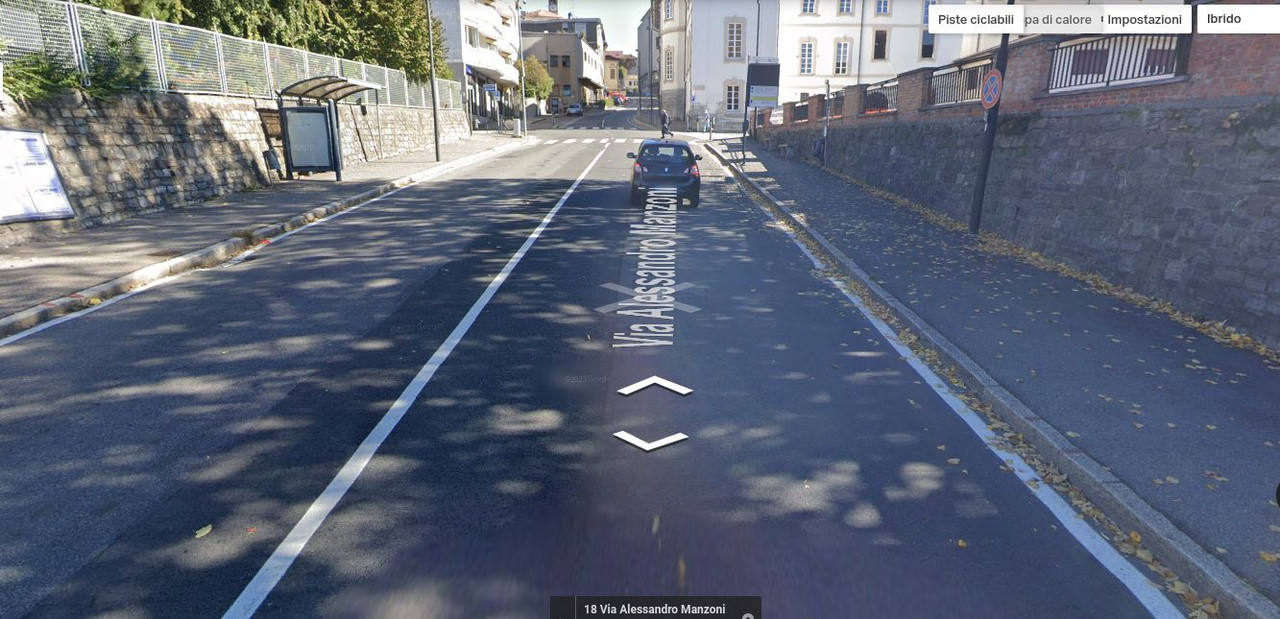 rettifilo di arrivo
Seconda tappa Lunedi
Si tratta di una tappa piatta ma con una salita tutta in doppia cifra che termina a 55 km dalla conclusione. Il recupero è possibile ma i velocisti dovranno sudarsela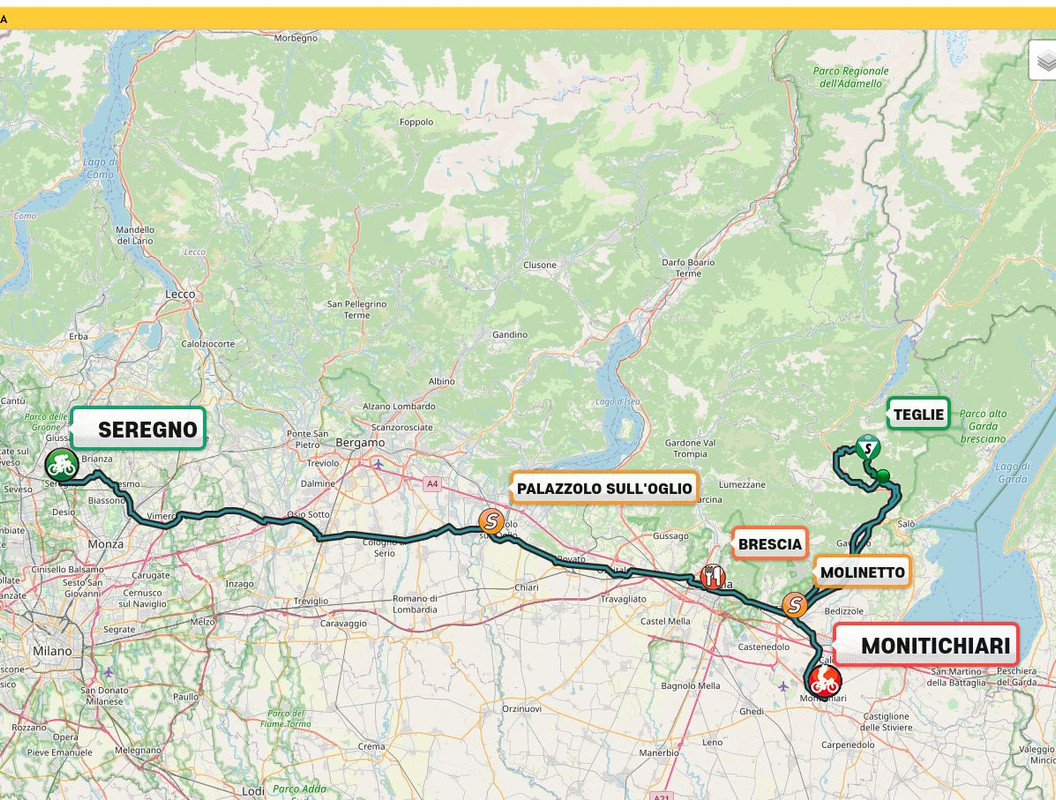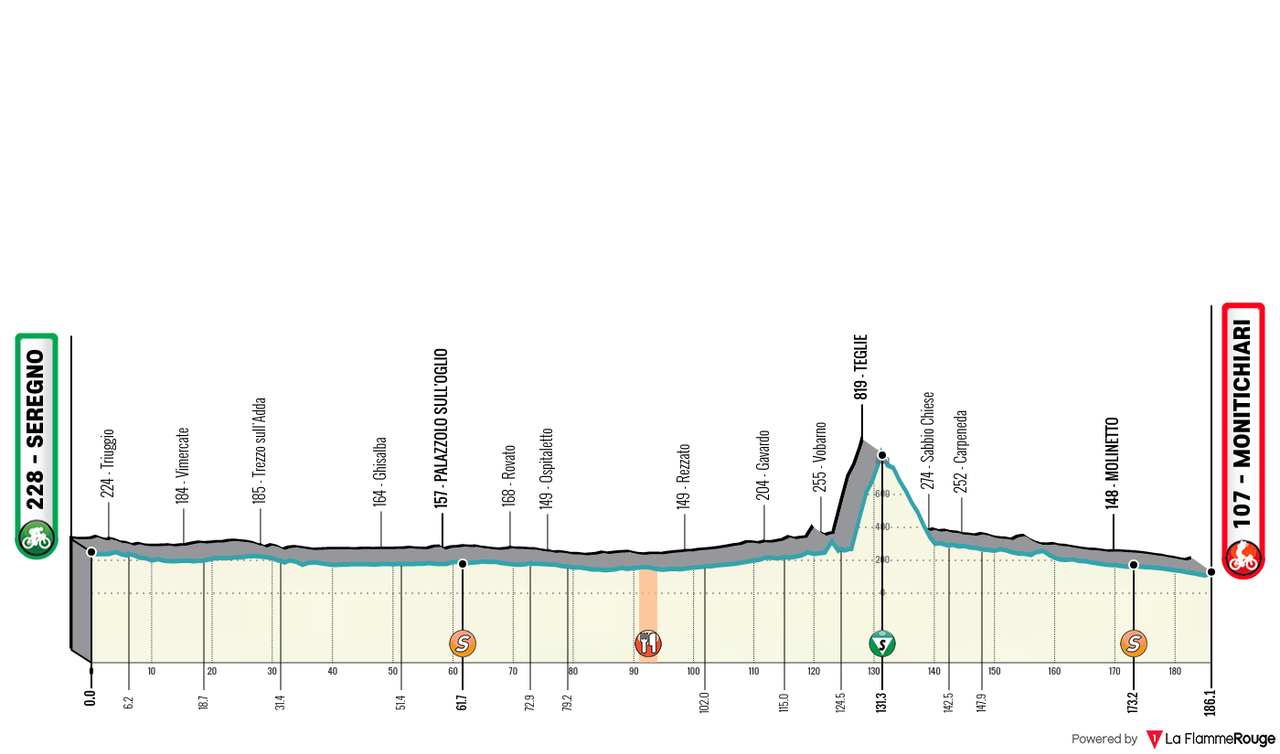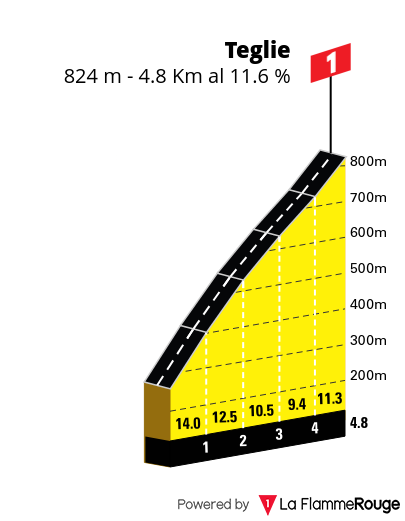 profilo della salita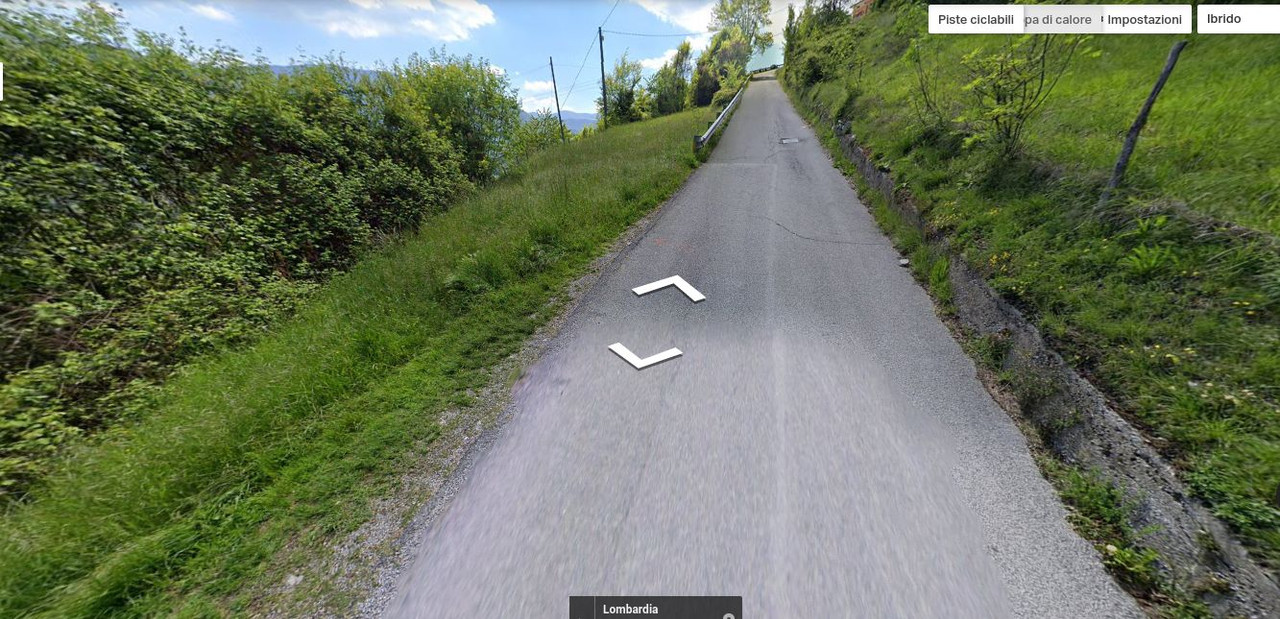 il punto più duro della salita
Terza tappa Martedi
Tappa completamente pianeggiante di trasferimento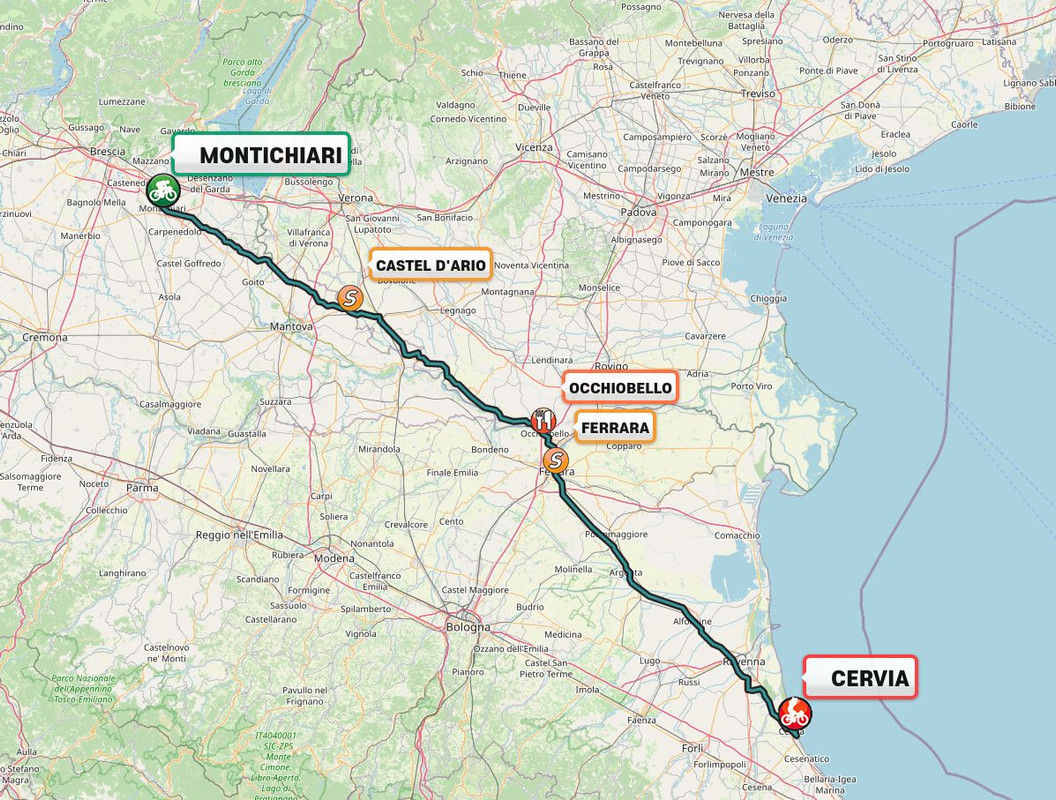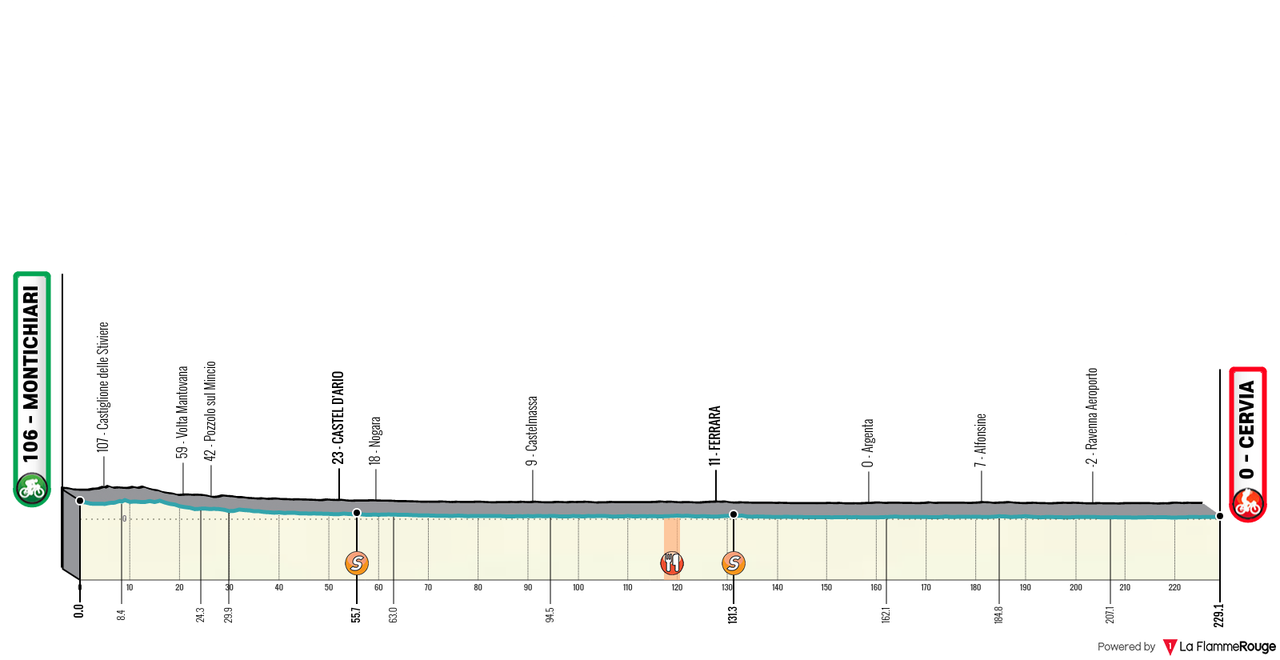 Quarta tappa Mercoledi
Tappa mossa con finale interessante. E' la tappa del ricordo, si parte da Cesenatico davanti al monumento in ricordo di Pantani e l'ultima salita scollina dove c'è il ricordo di Michele Scarponi.
L'ultima salita presenta a tratti pendenze severe e si scollina a 12 km dall'arrivo al termine di una tappa che di pianura ne presenta davvero pochissima. Spazio per le fughe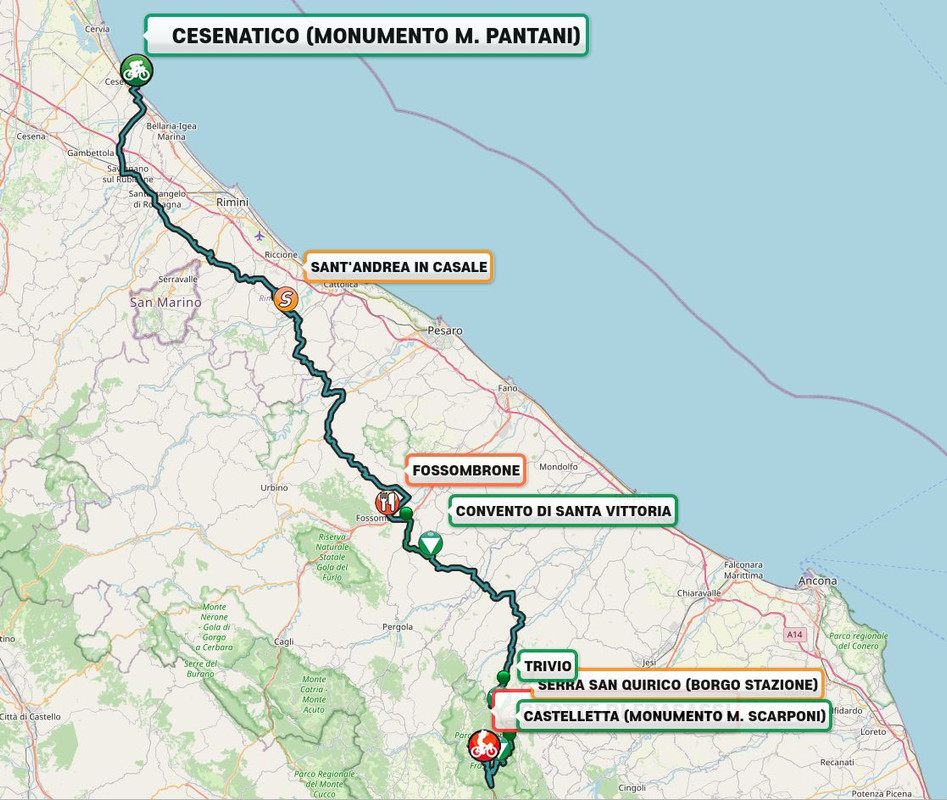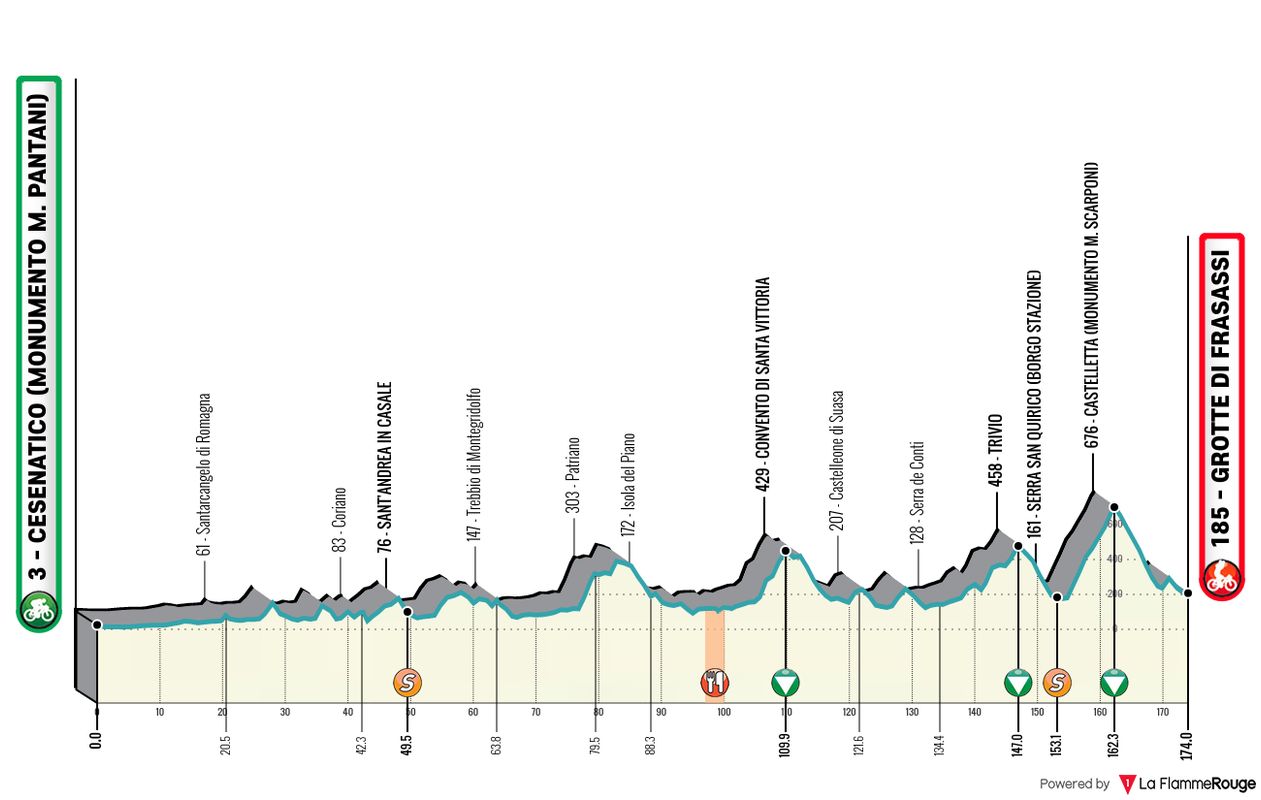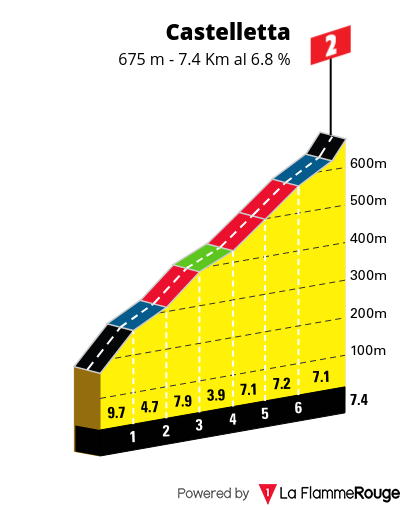 profilo salita Castelletta
Quinta tappa Giovedi
Altra tappa mossa ma stavolta il finale è su pendenze severissime.
Si sale prima a Chieti dalla Colonnetta poi ridiscesi al Tricalle si risale alla famigerata Via dei Marsi e Via del Tricalle chiamata dai locali "la salita del gas", con pendenze che arrivano al 20%. Dopo via del tricalle la salita continua ripida sino all'arrivo ne centro storico di Chieti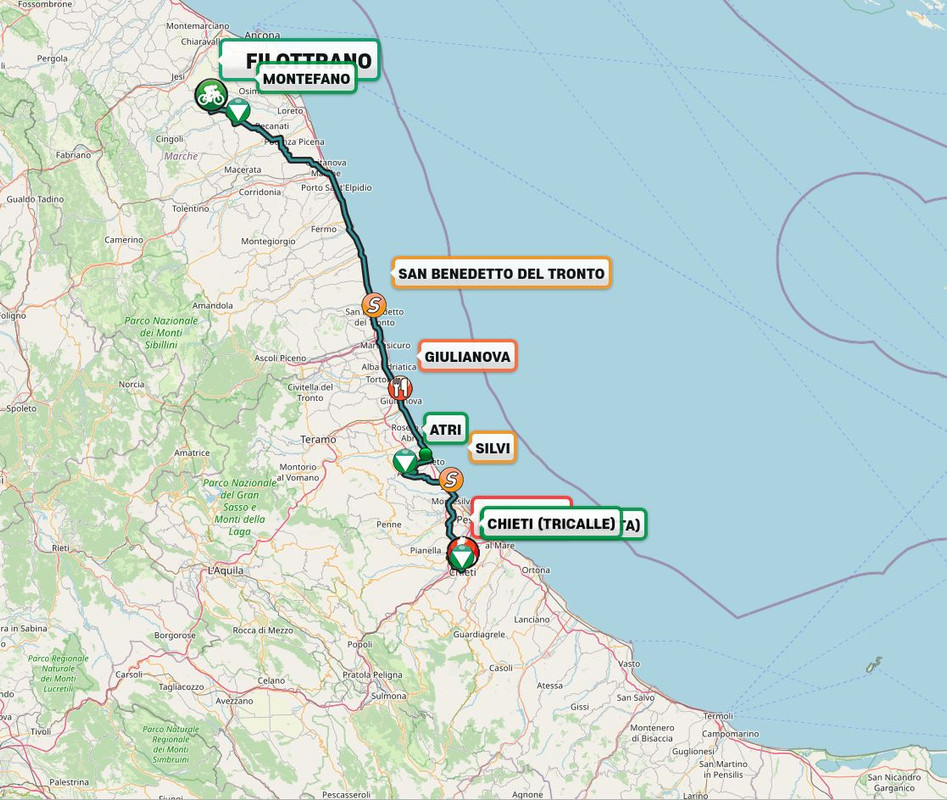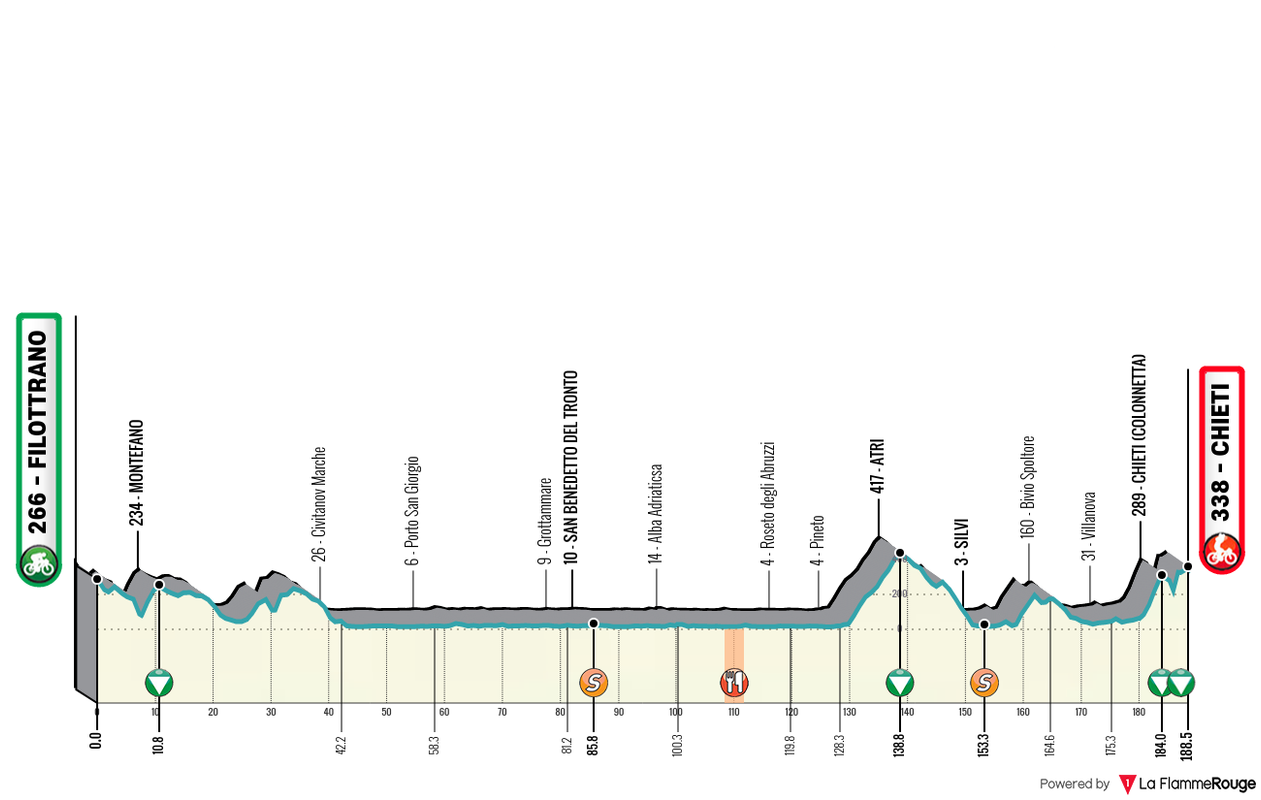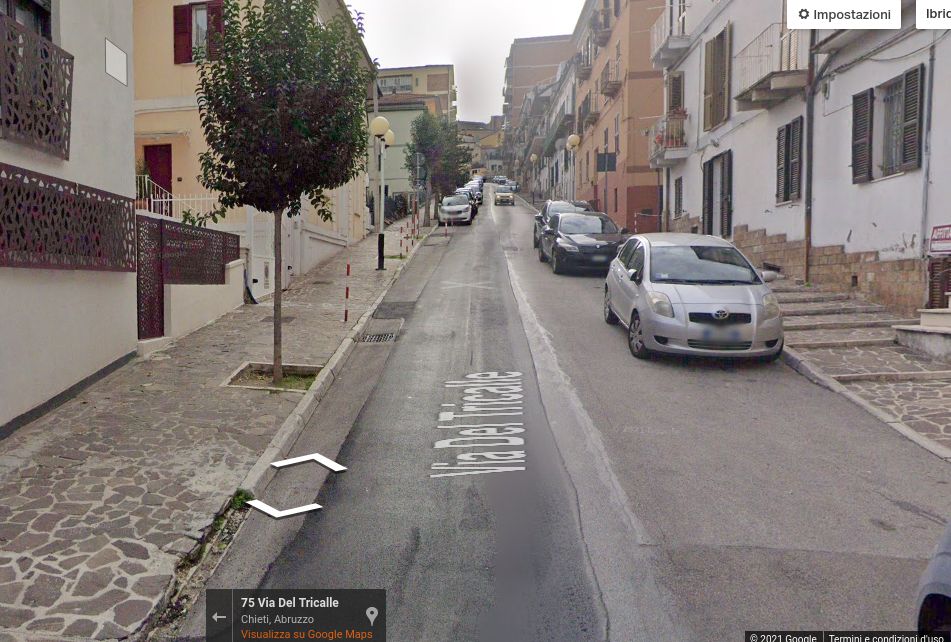 uno dei trati più duri di Via del Tricalle
Sesta tappa Venerdi (ITT)
Si tratta di una tappa a cronometro di 28 chilometri. La prima parte è pianeggiante e per specialisti, la seconda invece presenta due salite e la seconda è un muro con pendenze sino al 18%. arrivo davanti al Santuario del Volto Santo di Manoppello ove c'è il parcheggio riservato agli autobus dei pellegrini che permette di allestire la logistica dell'arrivo ed alle ammiraglie di ridiscendere e tornare lla partenza per assistere un altro corridore della squadra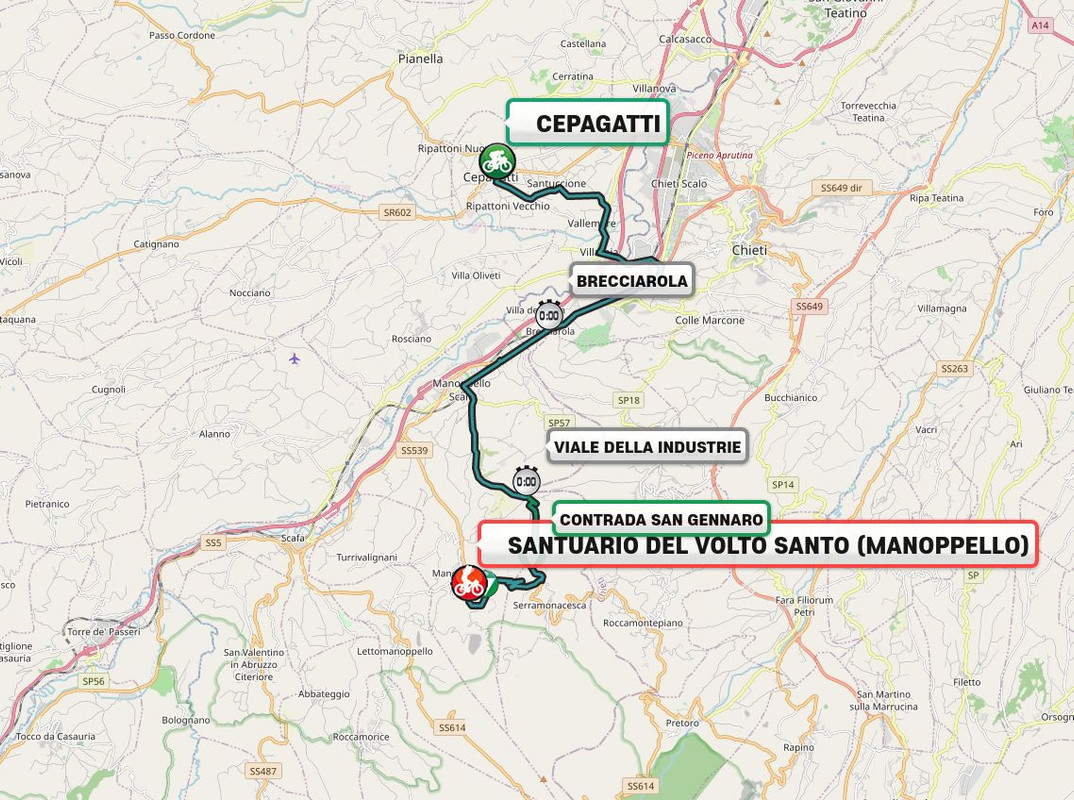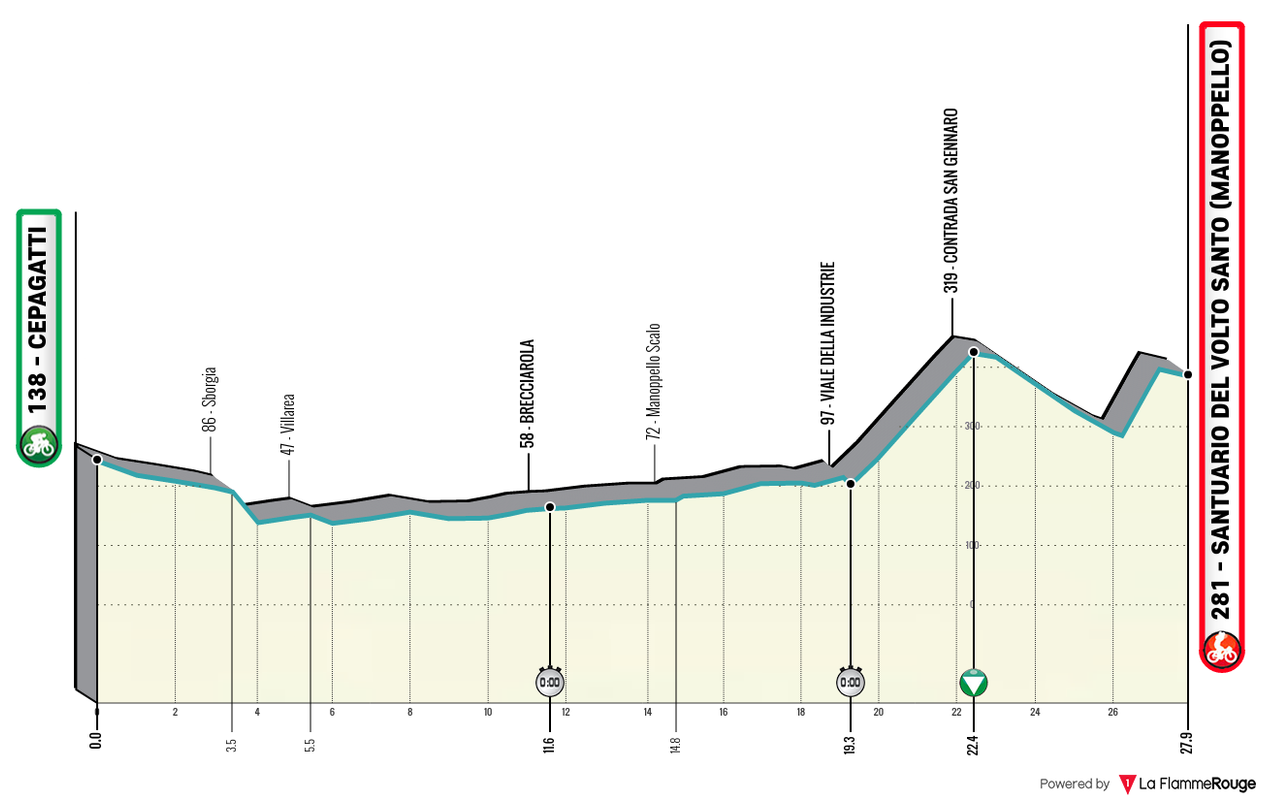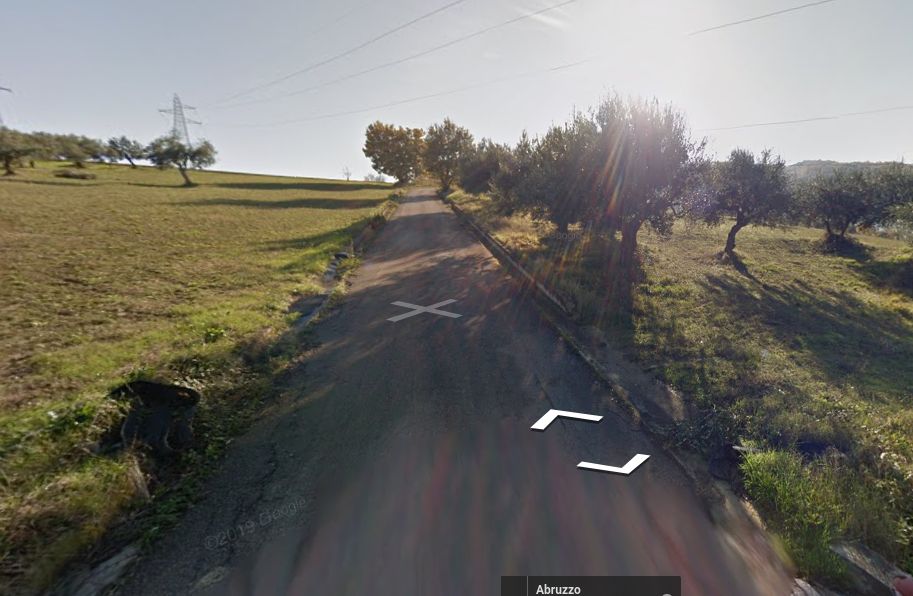 un tratto del muro de volto santo
Settima Tappa Sabato
E' la tappa regina con quattro colli e arrivo in salita.
Forca Caruso e colli i Monte Bove sono salite non impossibili mentre la salita di Monte Livata verrà affrontata due volte. La prima si arriverà in località Livata e si scenderà a Jenne la seconda si salirà sino a Campo dell'Osso dove c'è l'enorme piazzale dove ci sarà l'arrivo.La prima parte della salita è nell'abitato di Subiaco con pendenze in doppia cifra. La salita è lunga e impegnativa ed affrontata due volte potrà fare la differenza. E' possible l'attacco da lontano.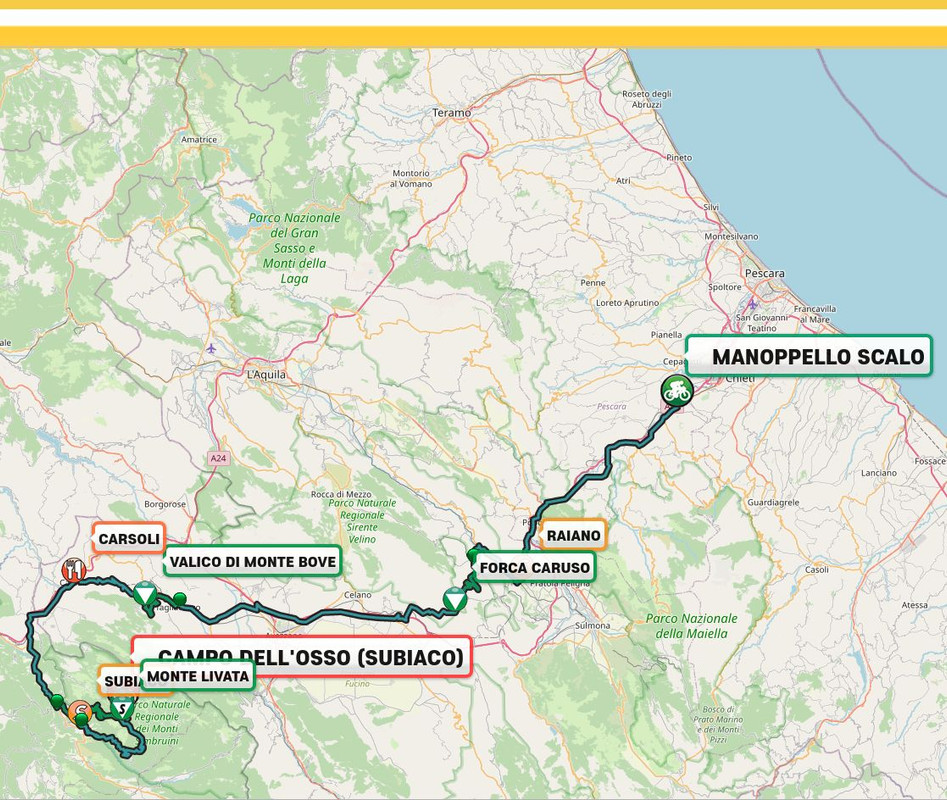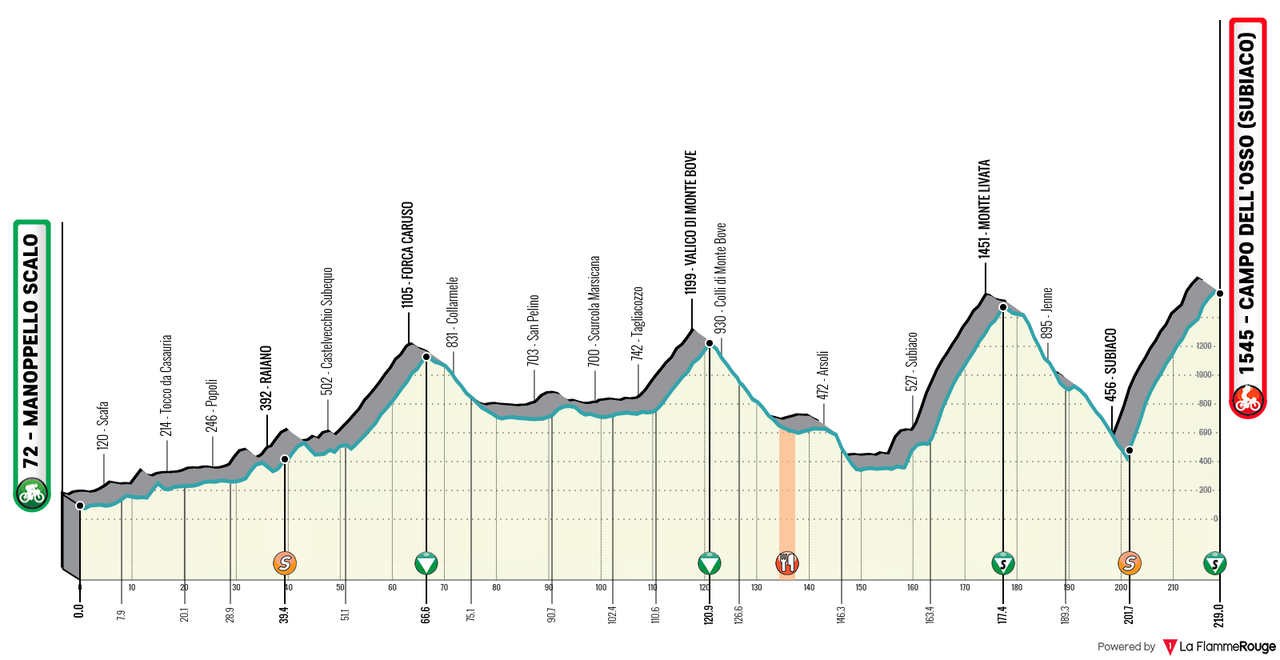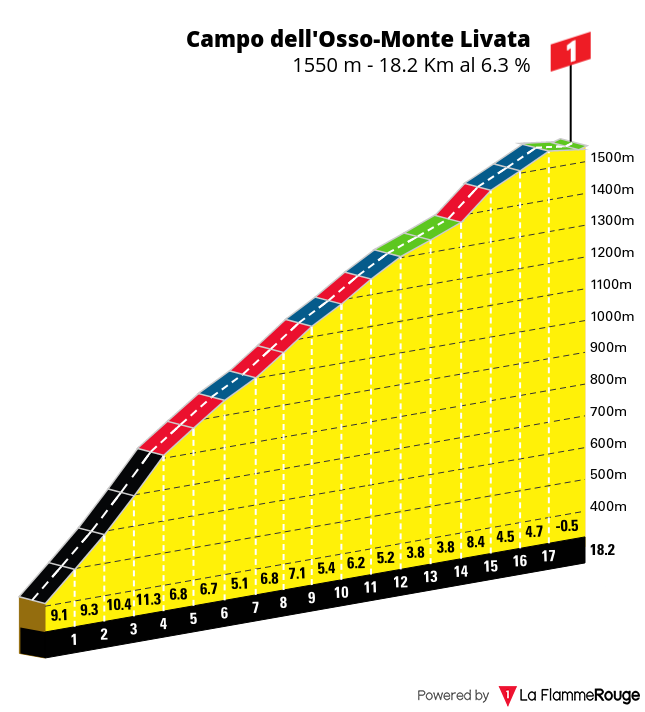 Profilo salita campo del'osso
Ottava Tappa Domenica
Ultima tappa insidiosa con varie salite di cui due con pendenze arcigne.
In particolare dentro rocca di PApa ci sarà un tratto molto ripido in sanpietrini.
Il finale è pianeggiante e termina a San Giovanni in Laterano ma attenzione perché oggi può succedere qualcosa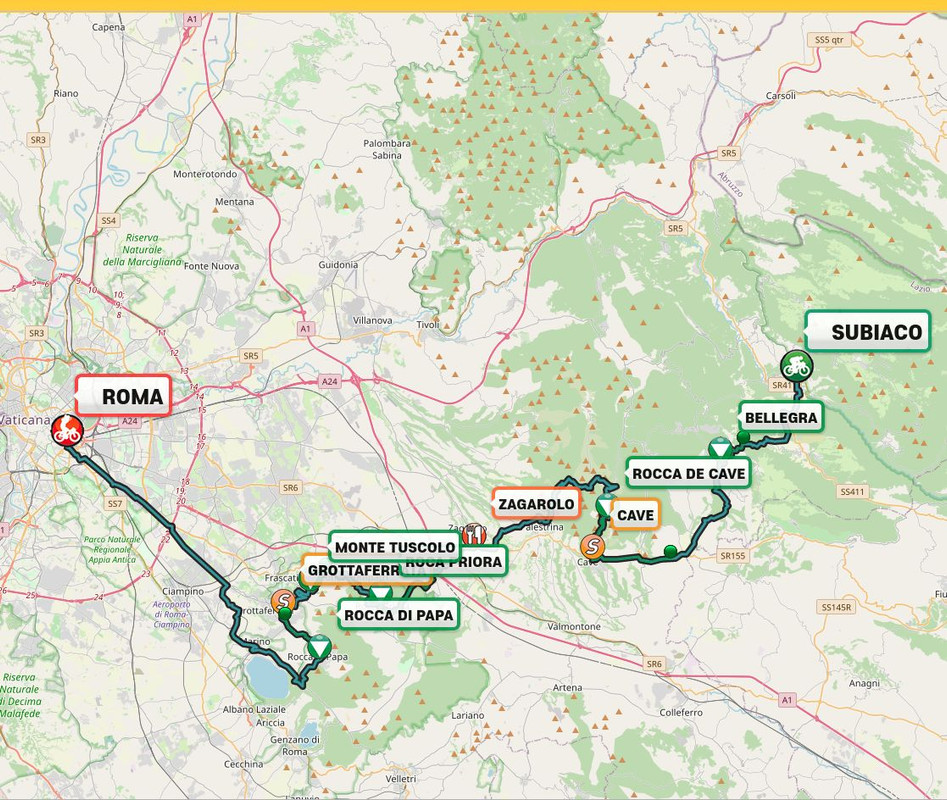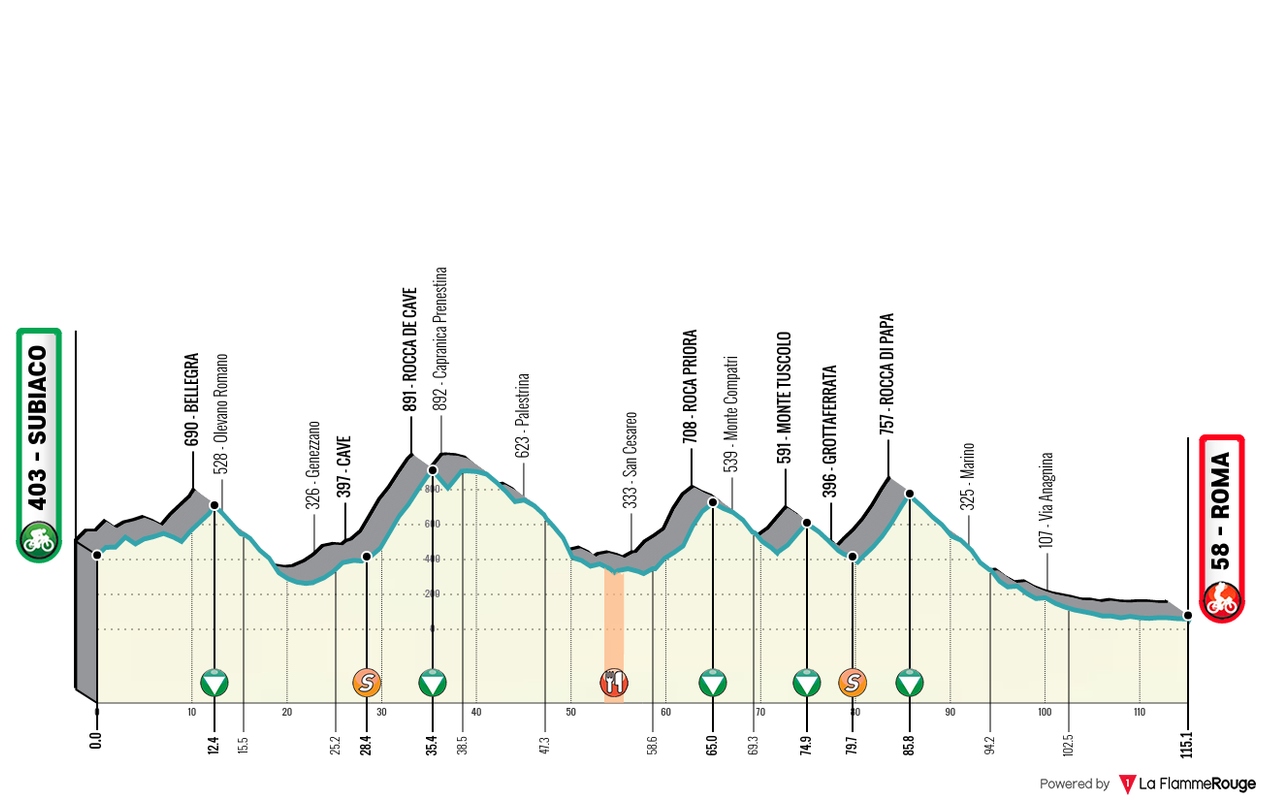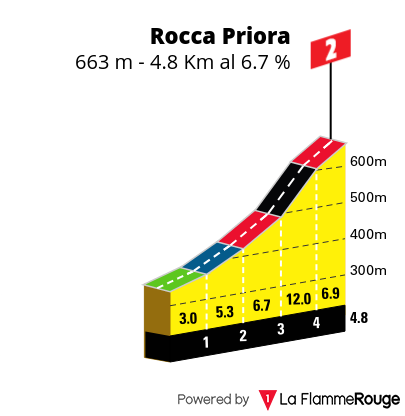 profilo salita Rocca Priora
Tratto in sanpietrini di Rocca di Papa
Guascogna - Linguadoca 1107 Km
maps/tours/view/18217
Anche in questo caso si è cercato di mantenere nei limiti del possibile le caratteristiche della tirreno anche se riadattate alla conformazione del territorio in cui si svolge la corsa. Sono state evitate altitudini non conformi al periodo dell'anno
Prima tappa Mercoledì
Tappa per velocisti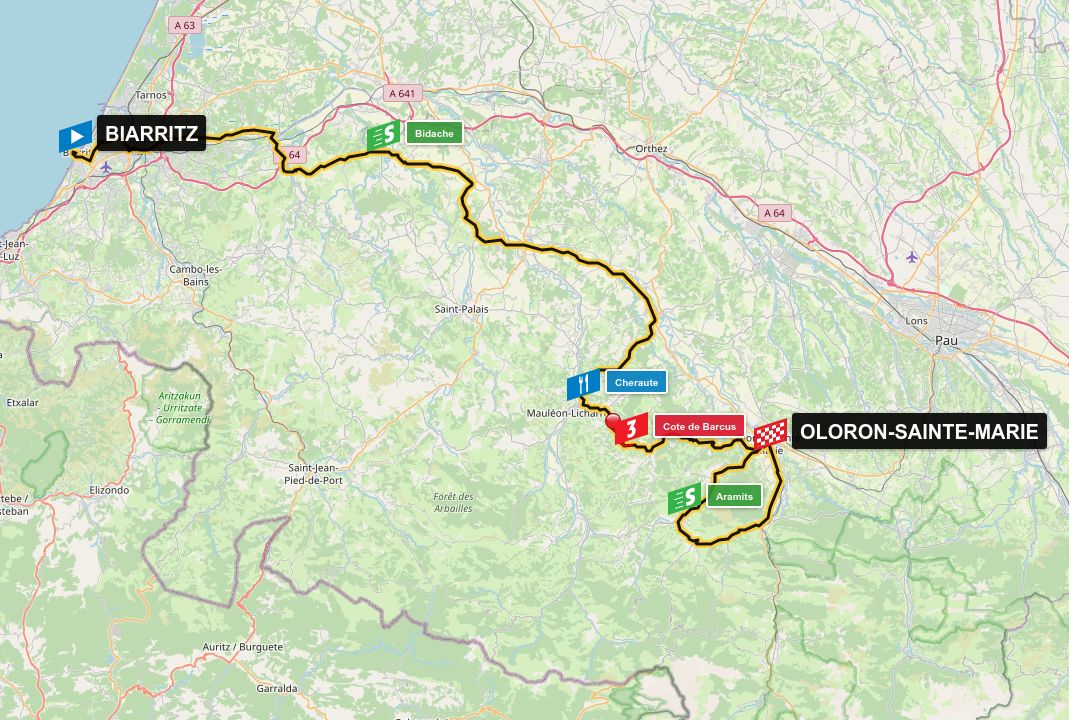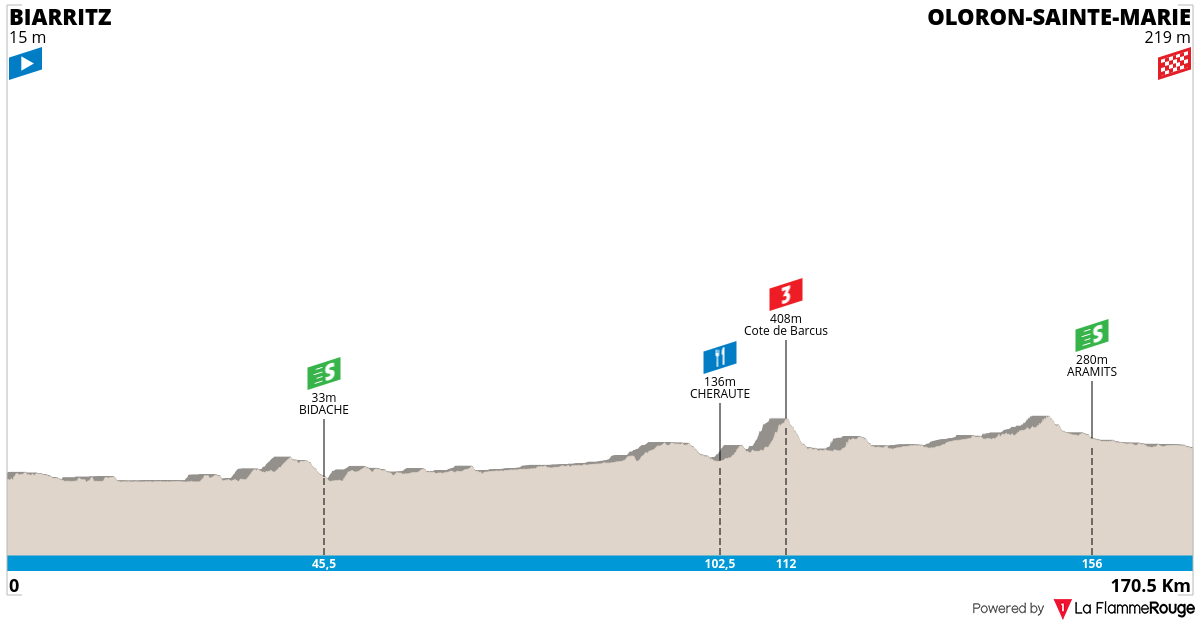 Seconda tappa Giovedi
Tappa mossa con finale insidioso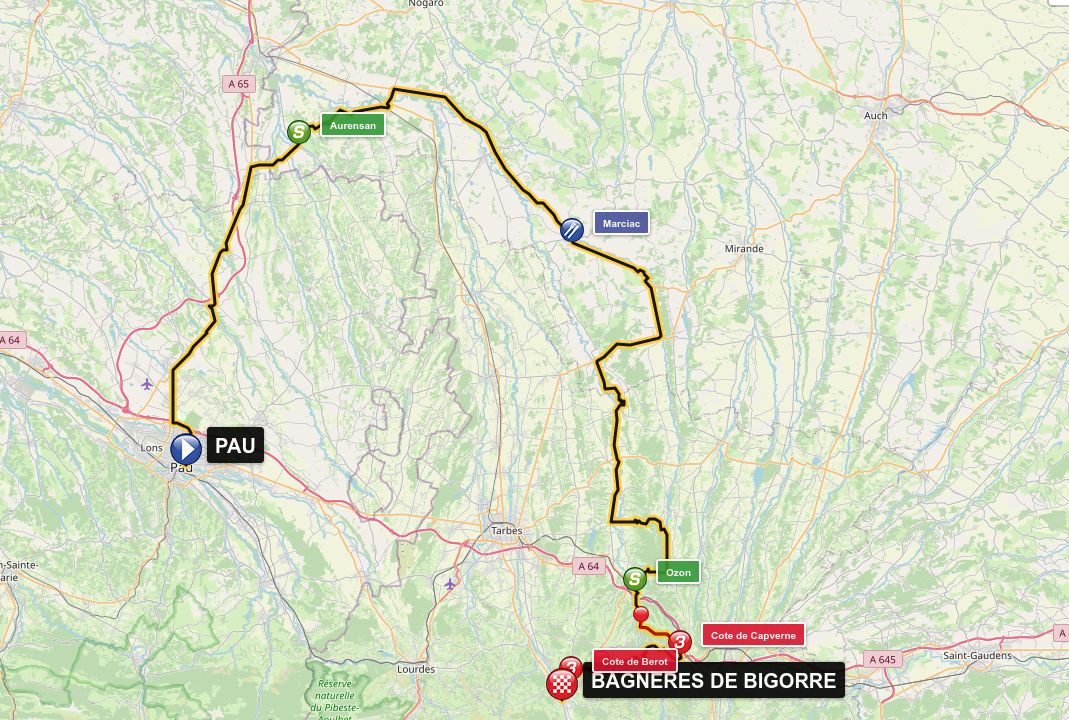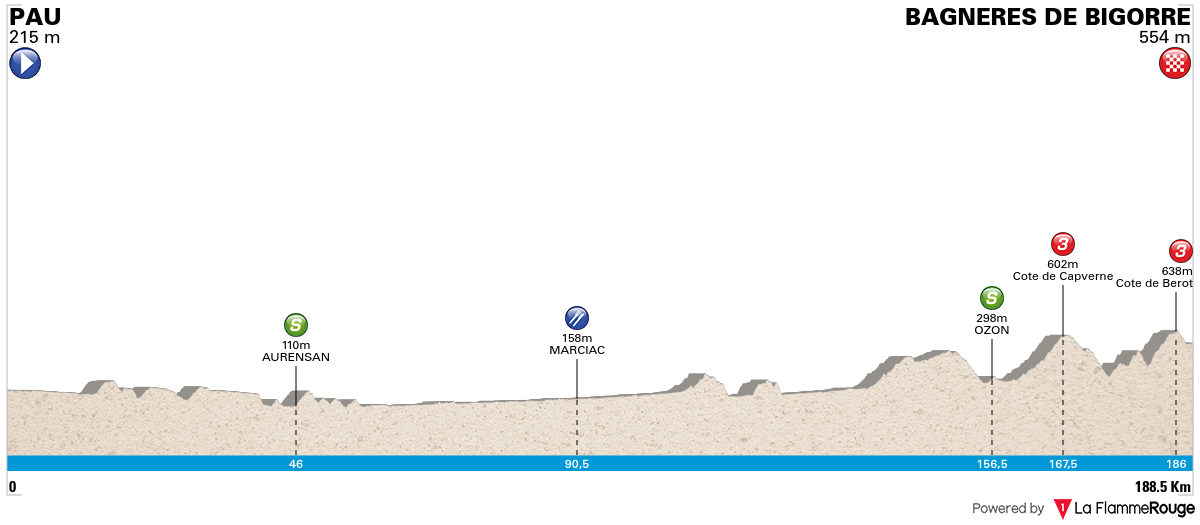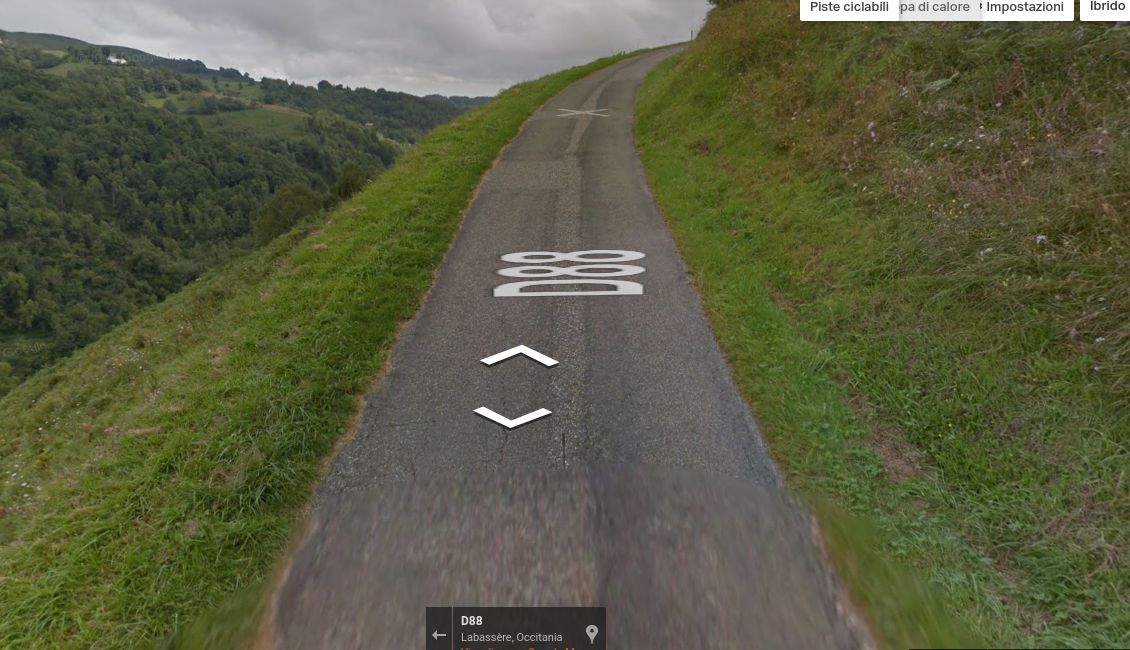 uno strappo dell'ultima salita
Terza tappa Venerdì
Tappa per velocisti anche se con qualche collinetta nella prima parte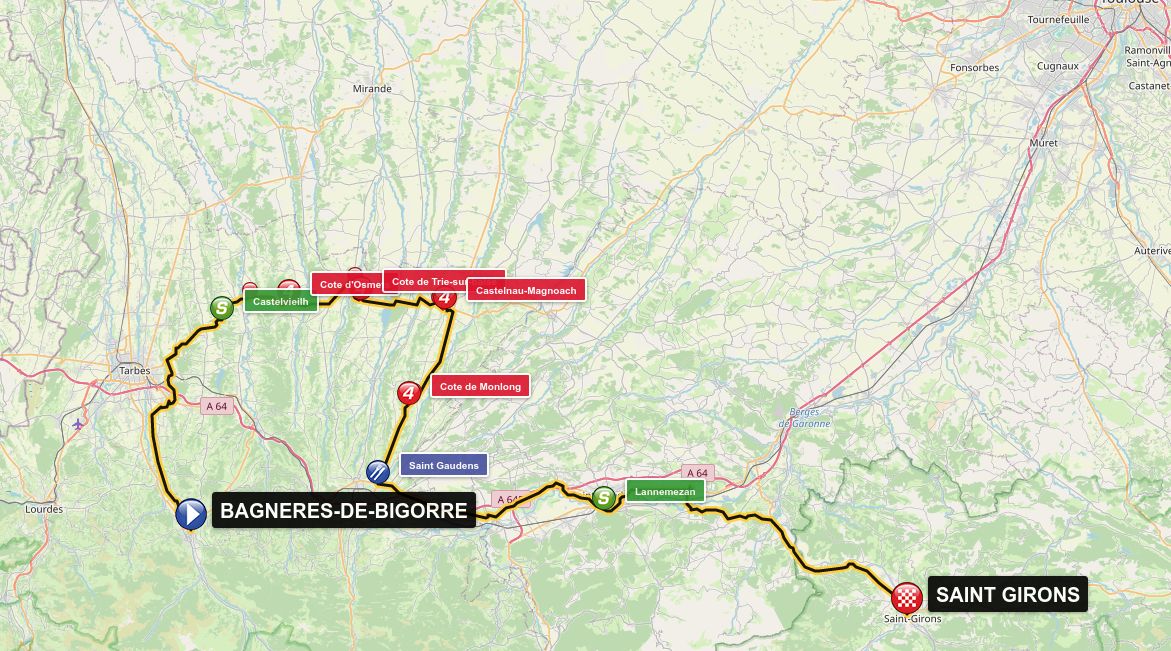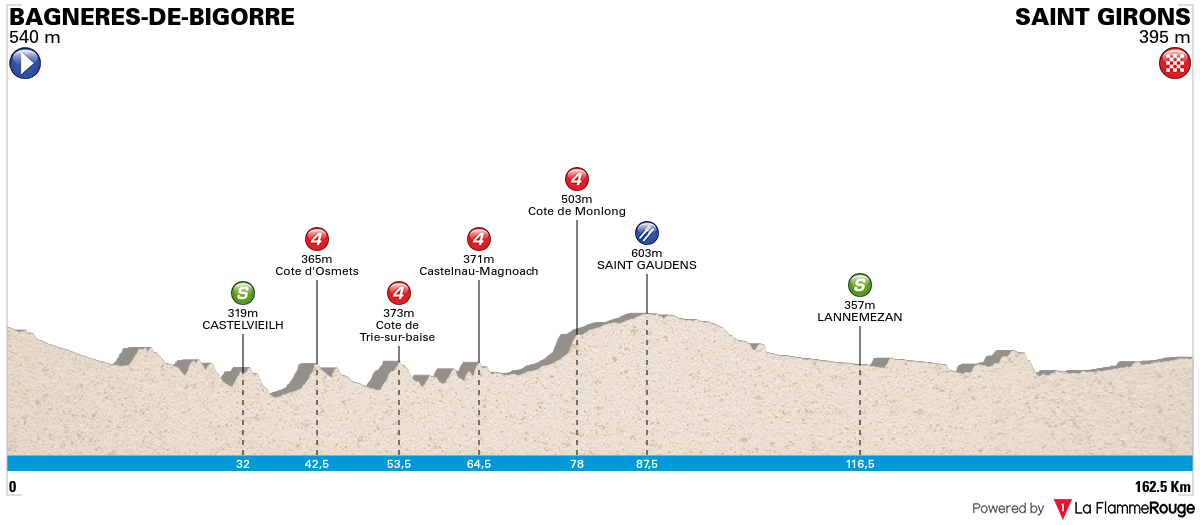 Quarta tappa Sabato
Tappa di montagna con arrivo in salita.
Si sono evitate altitudini impossibili per il periodo. Tappa pirenaica classica con quattro colli e arrivo in salita. Attenzione che gli ultimi due colli sono duri con pendenze severe. Si può fare la differenza e si può attaccare anche sulla penultima salita che presenta anche una discesa insidiosa su strada stretta nella quale si possono aumentare i distacchi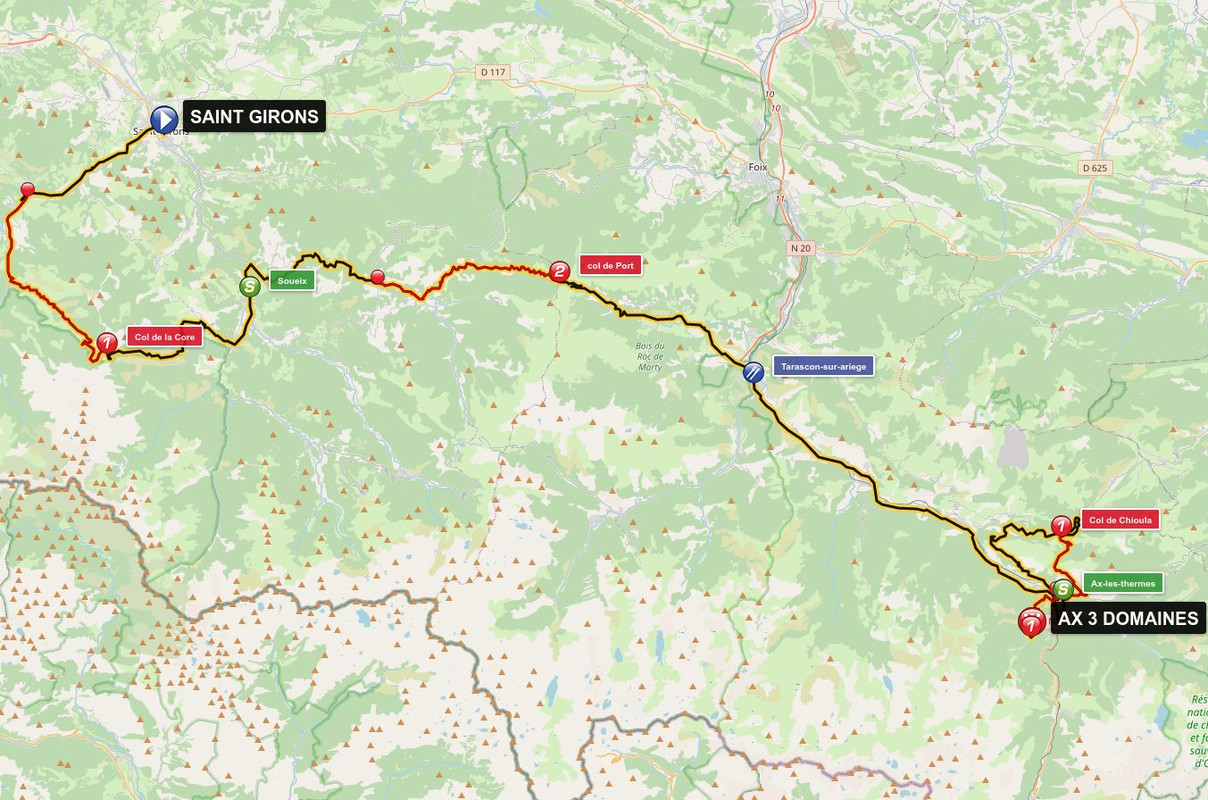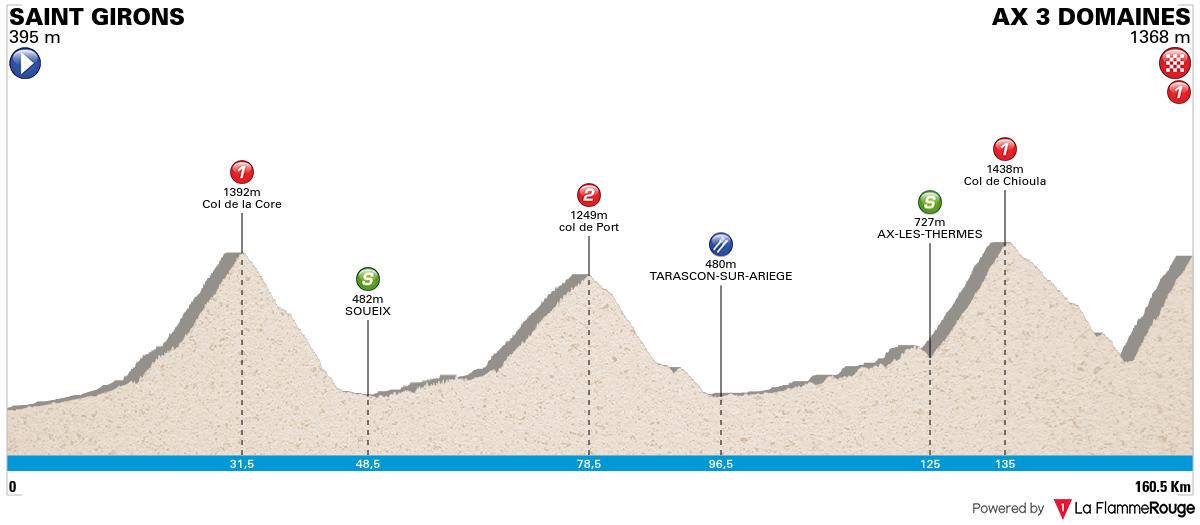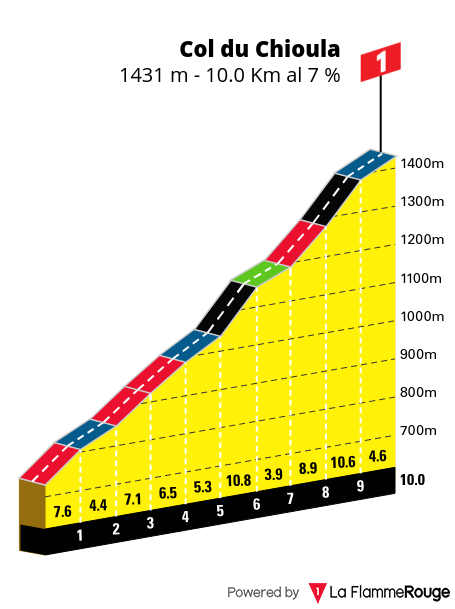 profilo penultima salita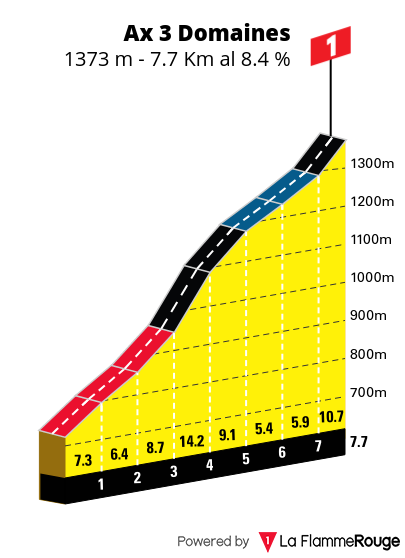 profilo ultima salita
Quinta tappa Domenica
E' la difficile tappa di collina, continui saliscendi con l'ultimo davvero vicino all'arrivo di thuir. Un passaggio spettacolare nella gole nella prima parte.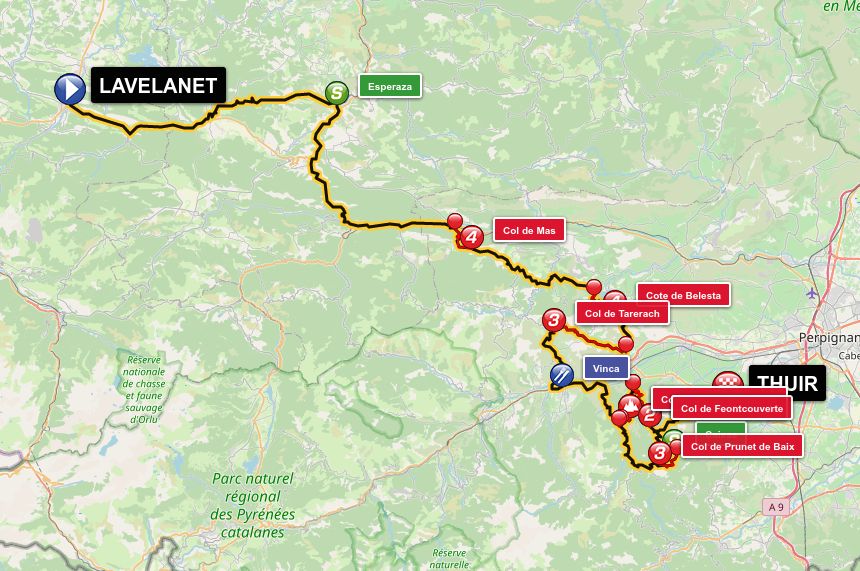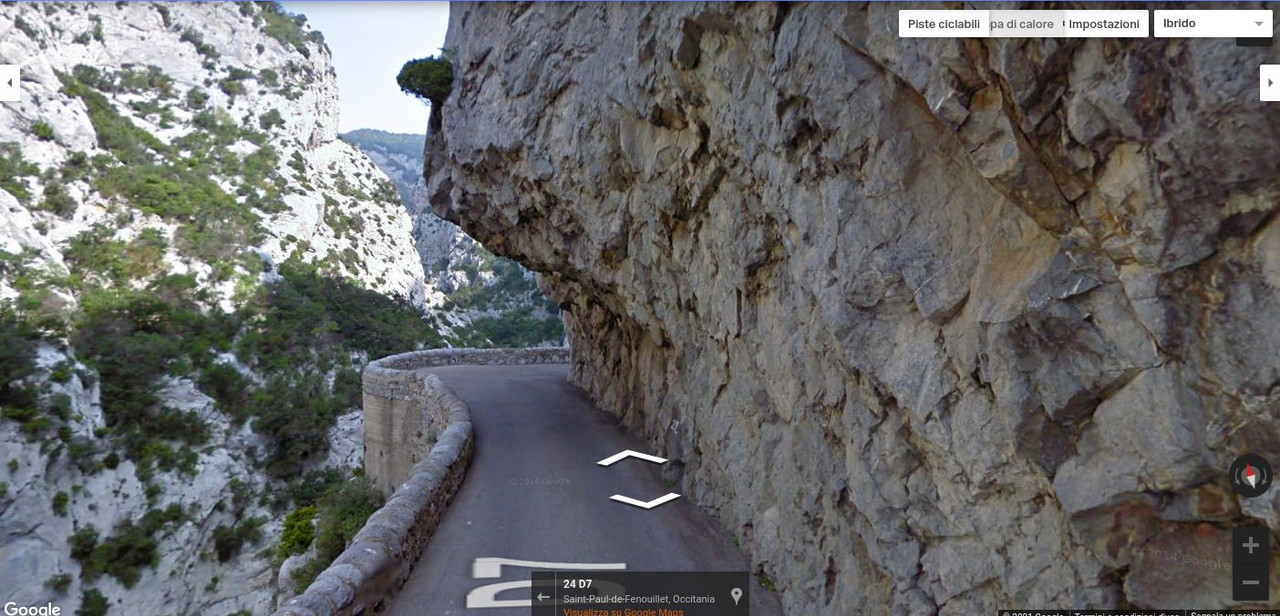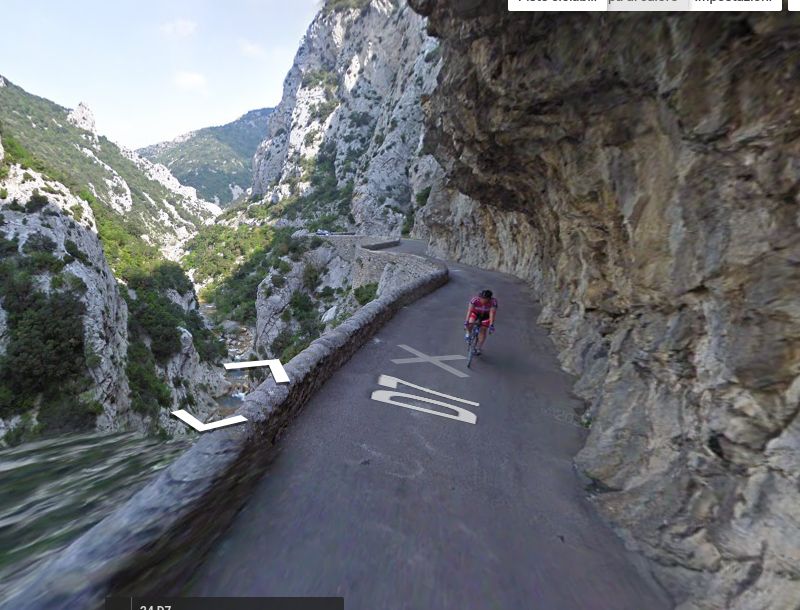 il passaggio nelle gole
Sesta tappa Lunedì
Tappa difficile da decifrare. Le facili salite a metà percorso non dovrebbero essere un problema ma nel centro di Bezier si affronterà una via tutta in salita e con curve nella quale sarà fondamentale stare davanti e si potrebbe riuscire anche ad anticipare lo sprint perchè non c'è spazio per chiudere un eventuale buco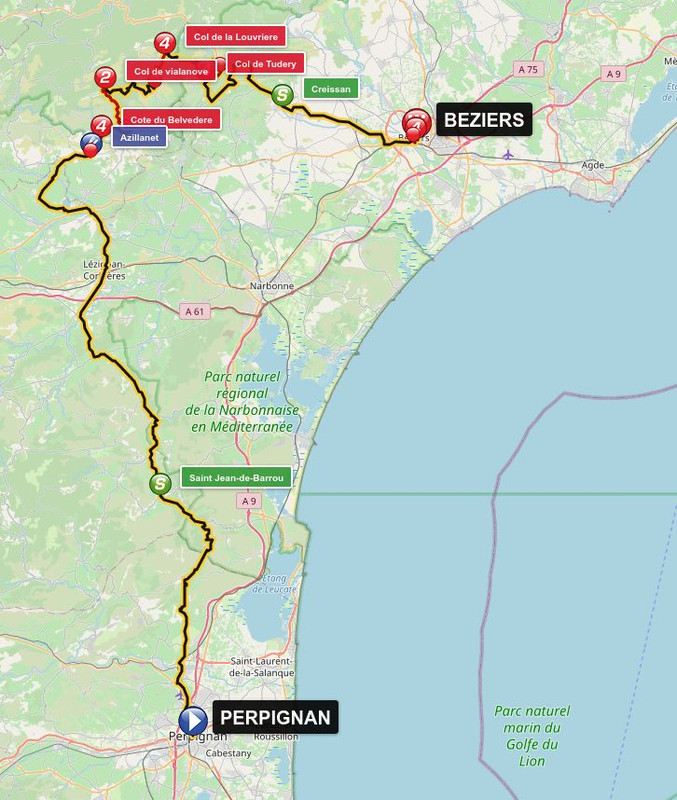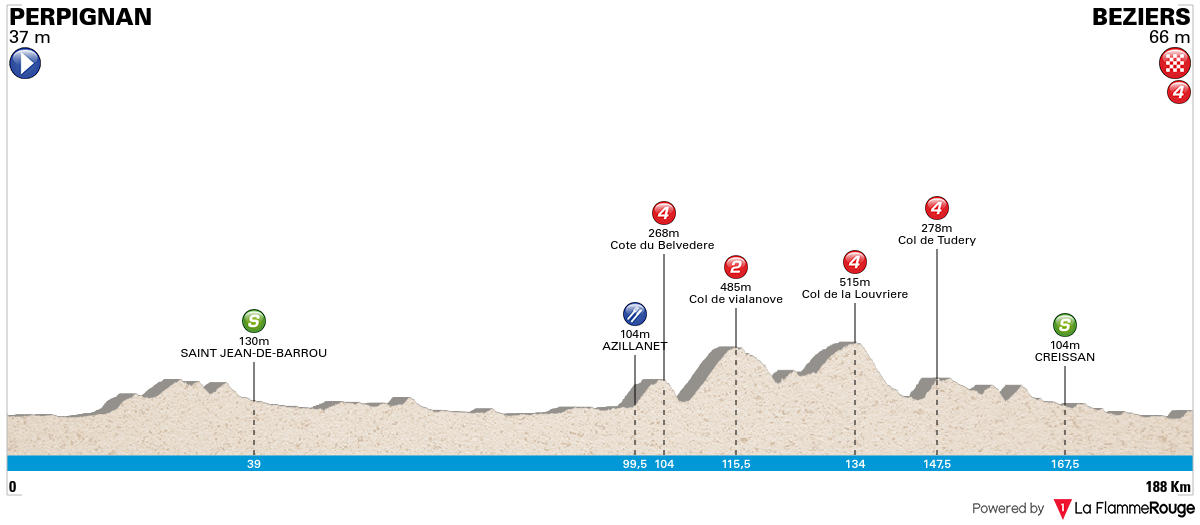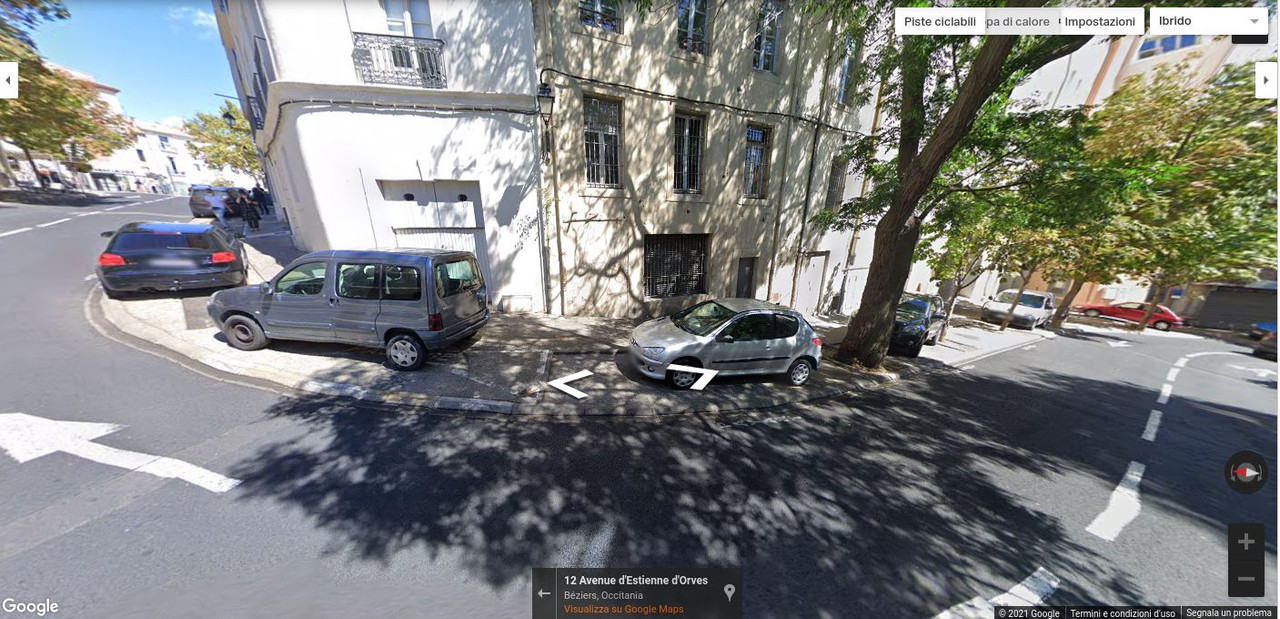 lo strappo nel centro di Beziers
Settima tappa Martedi
Crono finale tuttz piatta di 17 Km fino a Sete città Natale del grande cantautore anarchico George Brassens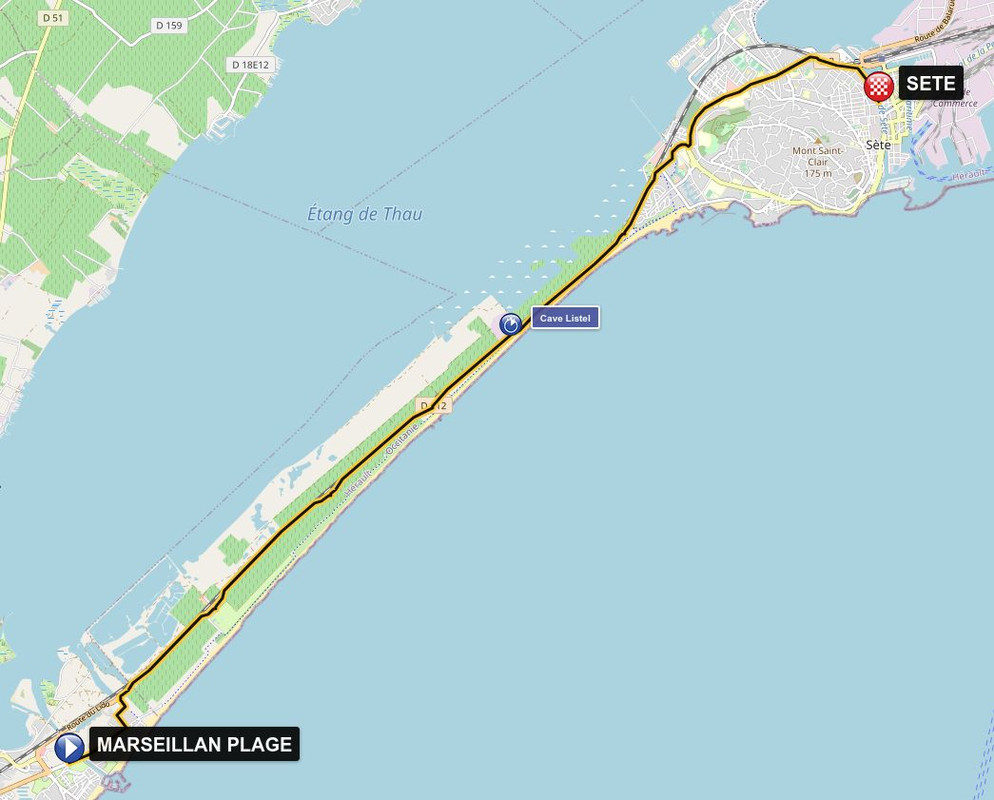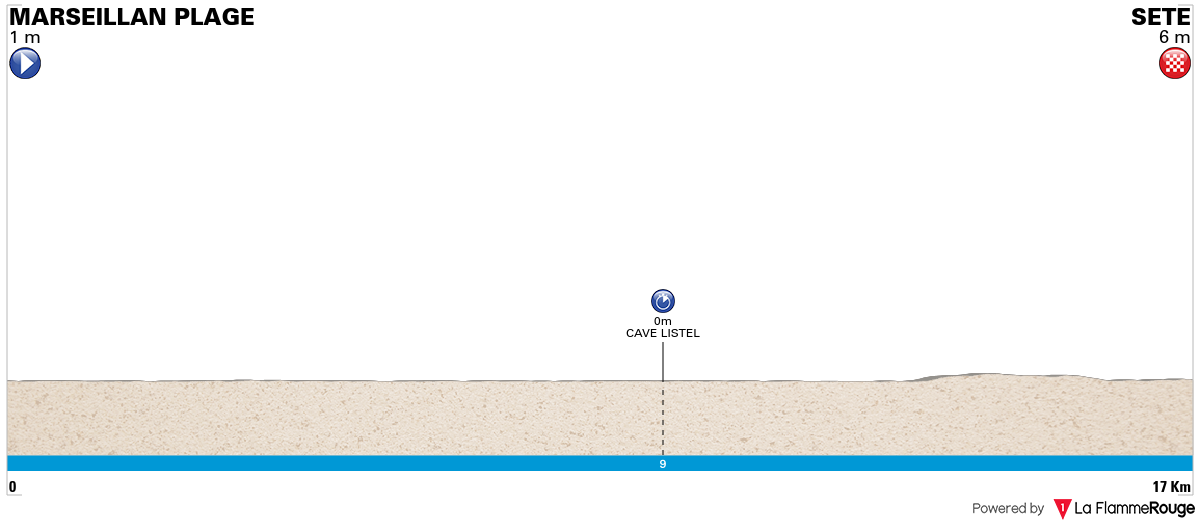 Direttore Sportivo terza divisione

Posts: 803
Joined: 17/05/2011, 15:47
Location: Milano
Contact:
Deadline is over.
Software Engineer, Cycling Fanatic