Connect with your social network account
Contests are back:
Link
Editor has still troubles with free API, if you don't want to use OSM Elevation API you can try to do a GPX on
RideWithGPS
site and import it on the editor
Please don't spam us mail and PMs that we won't answer
and notice that the official language of forum is English.
Contests
Contest 4 - Voting (deadline 23/8):
Link
Contest 5 - Tour de Pologne Improved (deadline 1/9):
Link
Comment with us the Tour de France 2019 in the discussion thread or in the Telegram Chat
Contest #5 - Tour de Pologne improved
Tour de Pologne is a nice race. One week kermesse up and down (more down) in Poland along circuit finishes. Except for the fact that is almost boring to watch and you always have first 10 in few second and it's like watching Tour Down Under in August.
Fortunately, Poland has different climbs that can be used to improve the route - some of them are in use in the other Polish races, like Tour of Malopolska, that you can find in our race calendar on the forum
What we ask you is to draw a different Tour of Poland, transforming it in a race more like a Paris-Nice. In particular there are the
Constraints
- There must be an ITT
- No more than 2 sprinters stage
- Penultimate stage should feature a Mountain Top Finish
- Last stage should be a short stage with up/downs like Col d'Eze stage in Nice
- You can't go out of Poland for the race.
- Circuits are not allowed. You are allowed to pass only once on the finish line
Deadline will be sunday, september 1st, h 23.59
Please all use La Flamme Rouge Yellow Style
Software Engineer, Cycling Fanatic
---
Forgot one thing: no circuits are allowed
Software Engineer, Cycling Fanatic
---
To be more clear, I'll show you my idea for this contest:
maps/tours/view/12577
(I'll not consider stage 1 is not a sprinter stage due to the uphill finish)
Software Engineer, Cycling Fanatic
---
maps/tours/view/12582
Ecco il mio percorso, particolarmente indicato per l'anno 2020, quando si celebrerà il primo centenario della nascita di Papa Giovanni Paolo II. Le prime due frazioni sono, infatte, dedicate all'indimenticato pontefice, poi ci sarà anche una tappa intitolata a Bjorg Lambrecht
Here is my track, particularly indicated for the year 2020, when the first centenary of the birth of Pope John Paul II will be celebrated. The first two stage are, in fact, dedicated to the unforgettable pontiff, then there will also be a stage named after Bjorg Lambrecht
1 stage: Kalwaria Zebrzydowska - Kalwaria Zebrzydowska (Sanktuarium) (ITT – 5.2 Km)
Ho scelto di far partire la corsa da Kalwaria Zebrzydowska, santuario molto caro a Papa Giovanni Paolo II, situato a breve distanza dalla cittadina dove è nato e iscritto dal 1999 nella lista dei patrimoni mondiali dell'umanità dell'UNESCO. Il percorso ricorda quello della tappa d'apertura del Giro del 2018 a Bologna, sebbene la salita conclusiva non sia ripida come quella di San Luca
I chose to start the race from Kalwaria Zebrzydowska, a sanctuary very dear to Pope John Paul II, located a short distance from the town where he was born and registered since 1999 on the list of UNESCO World Heritage Sites. The route is reminiscent of the opening stage of the Giro of 2018 in Bologna, although the final climb is not as steep as that of San Luca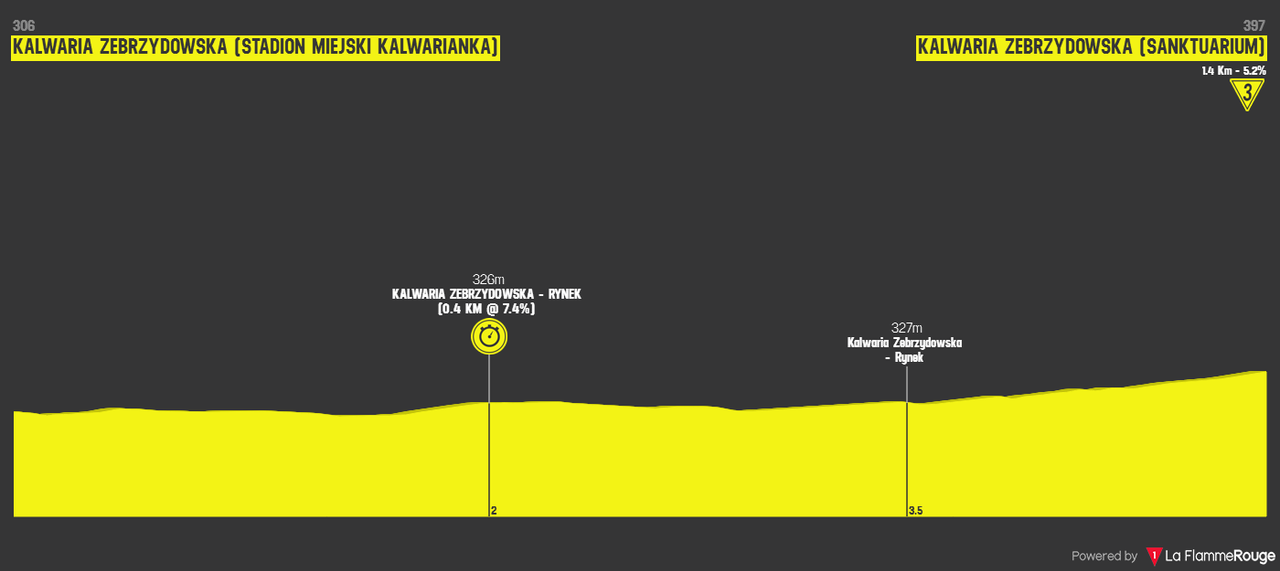 2 stage: Wadowice - Czestochowa (Jasna Góra) (169.3 Km)
Seconda ed ultima tappa dedicata a Papa Wojtyla. Si parte dal paese dove è nato per arrivare al celebre santuario di Czestochowa, situato sulla collina di Jasna Góra. Nel finale è prevista una prima ascesa alla collina su quale è costruito il santuario, poi ci si fa ritorno – ma non è previsto nessun circuito – al termine di un tratto finale in leggero falsopiano. Tappa per velocisti e finisseur.
Second and last stage dedicated to Pope Wojtyla. It starts from the town where he was born to get to the famous Czestochowa sanctuary, located on the hill of Jasna Góra. In the final there is a first ascent to the hill on which the sanctuary is built, then there is a return - but no circuit is foreseen - at the end of a final stretch in slight slight slope. Stage for sprinters and finisseurs.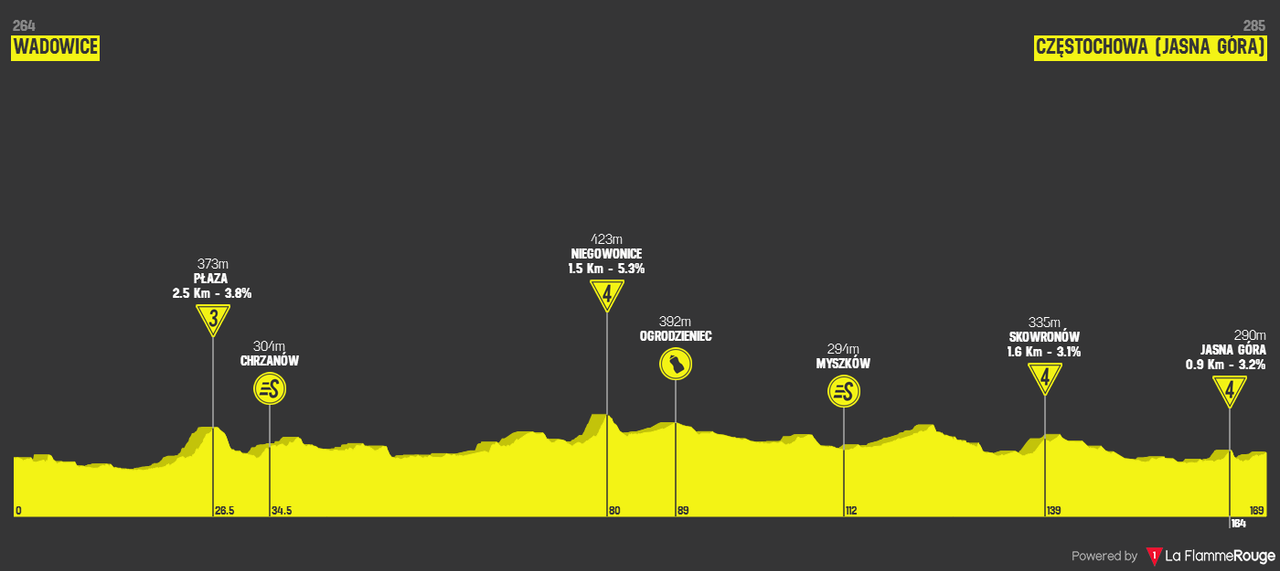 3 stage: Radomsko – Rybnik (216.4 Km)
La tappa più lunga è anche quella più facile, ultima delle due occasioni riservate ai velocisti
The longest stage is also the easiest, the last of the two occasions reserved for sprinters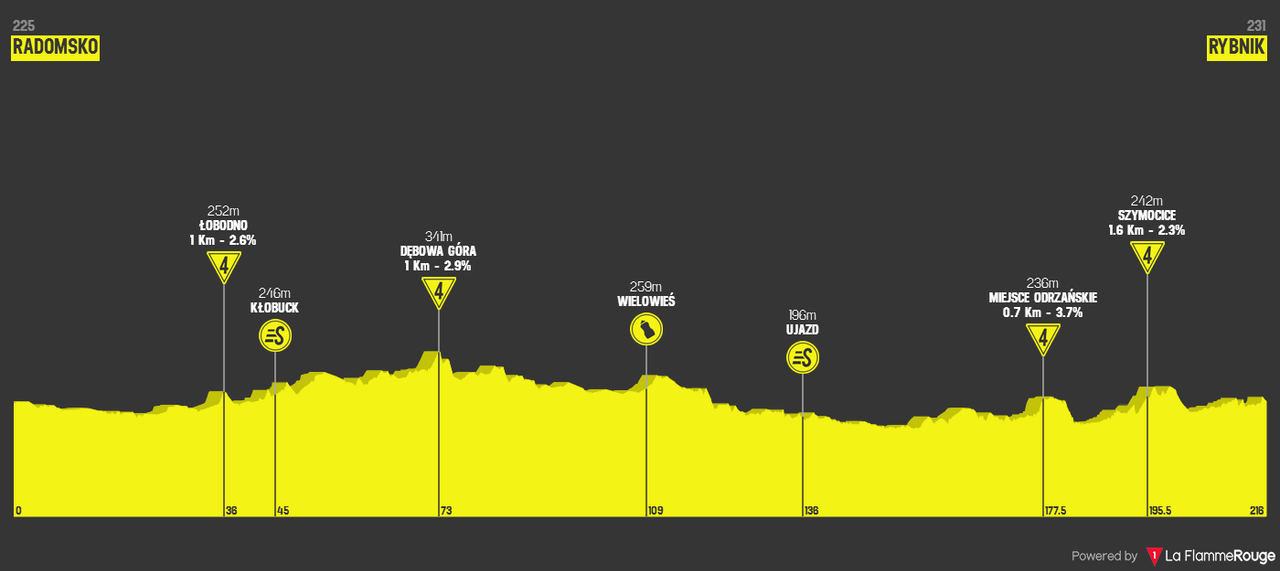 4 stage: Jastrzebie-Zdroj - Gora Zar (171.4 Km)
È la prima delle frazioni decisive della corsa polacca, la più difficile sotto l'aspetto altimetrico. Nel finale sono previsti i "muri" di Kocierz – che si doveva affrontare quest'anno nella tappa che è stata neutralizzata – e del Passo Targanicka a far da "aperitivi" alla salita finale verso il lago artificiale di Gora Zar
It is the first of the decisive stages of the Polish race, the most difficult under the altimetric aspect. In the final, the "walls" of Kocierz - which was to be faced this year in the stage that was neutralized - are planned and of the Targanicka Pass to act as "aperitifs" for the final ascent towards the artificial lake of Gora Zar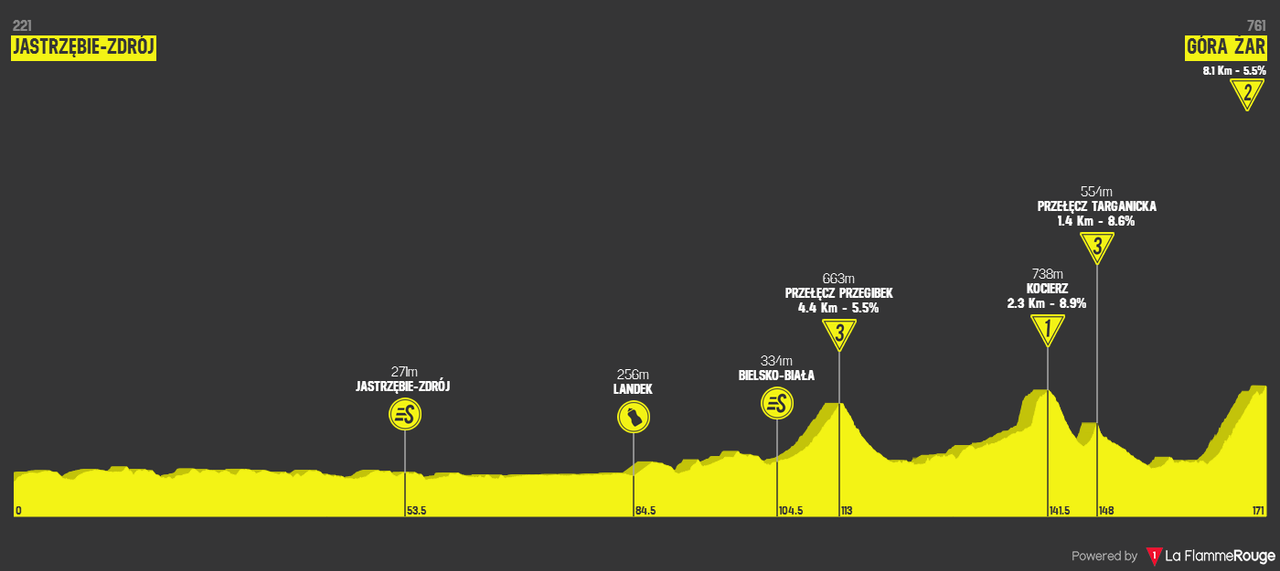 5 stage: Czerwionka-Leszczyny - Zory (Bjorg Lambrecht Stage - TTT – 16.6 Km)
È la tappa che ho voluto dedicare a Bjorg Lambrecht e che transita dal punto dove il corridore belga ha avuto l'incidente che gli è stato fatale, indicato sull'altimetria con "Bjorg Lambrecht Memorial". Nelle intenzioni originali doveva essere una prova individuale, poi ho pensato che sarebbe stata più adatta una prova a squadre, che potrebbe magari terminare con la vittoria della Lotto Soudal
It is the stage that I wanted to dedicate to Bjorg Lambrecht and which passes from the point where the Belgian rider had the fatal accident, indicated on the altimetry with "Bjorg Lambrecht Memorial". In the original intentions it had to be an individual test, then I thought that a team test would have been more suitable, which could end with the victory of the Lotto Soudal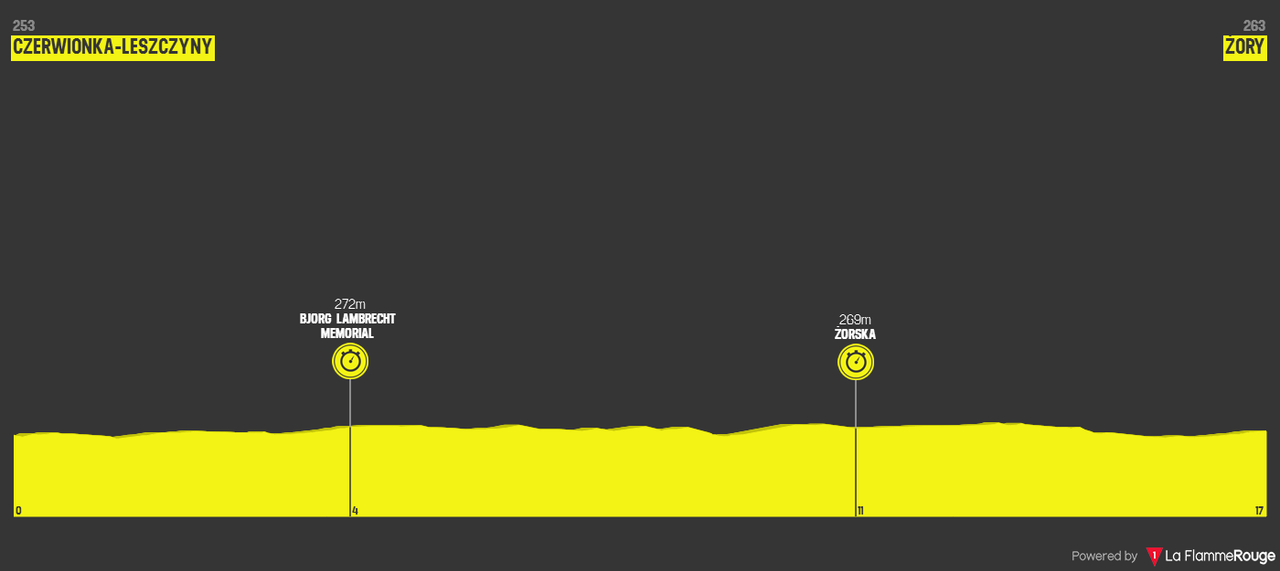 6 stage: Katowice - Ustron (Równica) (190.9 Km)
Le ultime due tappe non sono durissime ma, considerata la brevità della corsa e le difficoltà finora affrontate, potrebbero rivelarsi decisive. Oggi, come da richiesta, ho inserito un Mountain Top Finish al penultimo giorno di gara: si arriva sulla Równica, la montagna che sovrasta la stazione di sport invernali di Ustron
The last two stages are not very hard but, given the shortness of the race and the difficulties faced so far, they could prove decisive. Today, as requested, I inserted a Mountain Top Finish on the penultimate day of the race: we arrive on Równica, the mountain overlooking the winter sports resort of Ustron
7 stage: Bukowina Tatrzanska – Zakopane (121.6 Km)
L'ultima tappa è nata dalla fusione delle due tappe conclusive delle edizioni più recenti del Tour de Pologne, quelle di Bukowina Tatrzanska e Zakopane. Bukowina ospita la partenza e il primo sprint, Zakopane il secondo sprint e il traguardo finale (ma, anche in questo caso, non c'è un vero circuito non essendo previsto un primo passaggio sulla linea d'arrivo). La salita più difficile è la prima, all'interno del quale è previsto un breve ma ripidissimo muro.
The last stage was born from the fusion of the two final stages of the most recent editions of the Tour de Pologne, those of Bukowina Tatrzanska and Zakopane. Bukowina hosts the start and the first sprint, Zakopane the second sprint and the final goal (but, even in this case, there is no real circuit as there is no first pass on the finish line). The most difficult climb is the first, within which there is a short but very steep wall.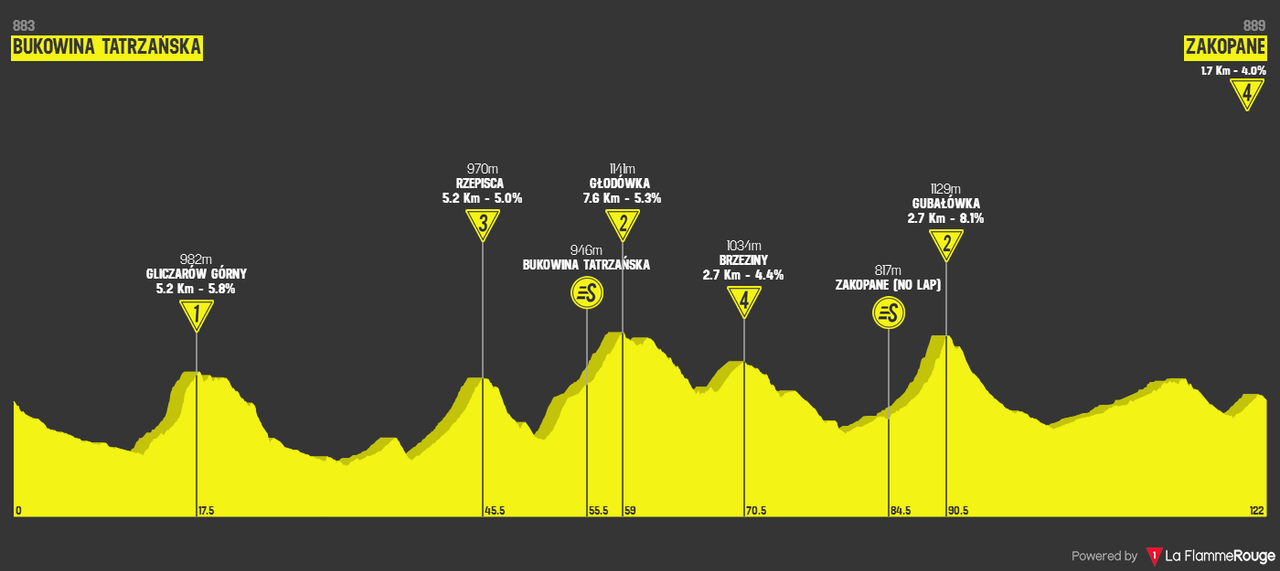 ---
Here is my submission for this contest. I enjoyed making this tour of Poland as it is something different than normal and I don't know Poland as well as France for example.
maps/tours/view/12593
Stage 1: Tczew - Bydgoszcz 151.28Km
My first stage of the Tour of Poland starts up north close to Gdansk in the ville of Tczew, the rest of this stage is flat apart from one small climb and follows the Wisla river all the way to Bydgoszcz. This also is arguably the easiest stage of my Tour of Poland.
Stage 2: Wagrowiec - Krosno Odrzanskie 219.01Km
Stage 2 is Marked as a flat stage but it won't be a mass sprint, the combination of the long distance, the 1500m long cobblesector with cobbled climb and the uphill finish could make this a chaotic stage and one the GC riders can't underestimate.
Stage 3: Zielona Gora - Luban 170.05Km
Another sprinters stage and the last chance for the participating sprinters, after this stage expect a lot of sprinters and their lead-out to abandon the race and focus on other goals and races.
Stage 4: Piechowice - Bystrzyca Klodzka 175.59Km
The first hills show up in front of the riders today, not the hardest day, but aas Always the GC riders need to watch out and don't get surprised. The first few hills won't decide anything they are just there so to make the stage a little harder than just the final climbs. The final of this stage starts on the fairly long Karlow climb which doesn't look hard just looking at the average gradiënt, but this climb isn't constant. After that follows the long drag uphill, this part could be crucial to the stage's finish, if 1 or 2 teams decide to go full gas up here it will just be a small group arriving at the foot of the last climb, if this isn't the case there will be a big peloton on the foot of the last climb and the strong sprinters still have a chance. After the last climb the riders face a long descent but it isnt technical. The finish is slightly uphill so timing is crucial here.
Stage 5: Klodzko - Zloty Stok 26.58Km
Today is the ITT day in my Tour of Poland. The stage starts in Klodzko, one of the oldest towns of Silesia know for its almost 1000 year old fortification. This ITT starts with a drag uphill before the riders descent down to the also 1000 year old town of Bardo. The finish is in Zloty Stok which means Golden Hillside, called so because of the fact there was a gold deposit found here in the middle ages.
Stage 6: Nysa - Szczyrk 198.86Km
The penultimate stage goes uphill again. The first 180Km of this stage are flat, after this the riders face the almost 7Km long Przelecz Salmopolska pass, this climb could enable long range attacks because there is only a descent and a steep climb after this pass. The riders will descent to the town Szczyrk where they'll face the short "wall" to the convention center located above the town.
Stage 7: Nowy Targ - Morskie Oko 111.99Km
The last stage of my Tour of Poland features almost no flat parts after the foot of the first climb most of this stage will go either up or down. After climbs known because of the last 2 stage of the "normal" Tour of Poland the riders will face the uphill finish to one of the most beautiful lakes of Europe as experts say. The last climb is normally closed for motorized access, but I did the maths to ensure that this climb can be included to a cycling race. The last 8.55Km of the road are closed for motorized vehicles. This is 8550M or 855000. The average human has a width of 45 Cm considering there will be 1 row of supporters on both sides of the roads you'll have to do 855000 times 2. To calculate the total supporters do 1710000:45=38000 people. During the vacation season the total visitors to this lake are 50.000. Considering the popularity of the Tour of Poland and the fact that this climb won't be full of supporters the total of supporters on the climb may be the same as on a crowdy day somewhere in the vacation in July. The only thing that may has to be done is that Motards follow the riders instead of cars, just like the Zoncolan during the 2018 Giro.
---
Appassionato

Posts: 58
Joined: 16/11/2017, 5:28
Contact:
"No circuits". We're not allowed to passs twice on the arrival but can we make twice a climb/road in the same stage ?
---
jibvalverde

wrote:

↑

13/08/2019, 17:03

"No circuits". We're not allowed to passs twice on the arrival but can we make twice a climb/road in the same stage ?
You are not allowed to pass twice the arrival.
Would've even better if possibile not repeating climb in stafe
Software Engineer, Cycling Fanatic
---
Spettatore
Posts: 1
Joined: 19/08/2019, 10:40
It is my version of Tour de Pologne:
maps/tours/view/12666
I stage from Poznan to Legnica is a typical day for sprinters. There are not many great views or monuments between start and finish, so probably it wouln't be impressive day.
II stage is a ITT. Short route is very hard and it can cause some time differences between cyclists.
III stage is a second and last chance for sprinters who are not good enough in mountains. Katowice is a city well-known city for everybody interested in TdP.
IV stage visits some tourists destination like Sucha Beskidzka, Zywiec or Wisla. Before last kilometres in Bielsko-Biala there are 3 demanding climbs, what guarantees a great fight.
V stage is also full of climbs and famous cities and places. After start in Wadowice, cyclists will visit Kalwaria and after that there will be a lot of climbs in Beskidy Mountains. Last 20 kms don't include any climbs, but after mountains in the front it shouldn't be a lot of poeple.
VI stage has only one climb, but the finish is the hardest 10 km of race.
VII stage is a last day of racing, there are a lot of hills known from TdP and also there is a mountain finish.
---
Spettatore
Posts: 17
Joined: 06/03/2018, 18:06
This is my proposal for the Tour of Pologne improved.
maps/tours/view/12581
Brief description of the route.
As the Tour the Pologne usually features only the southern half of the country, I'd like to give some more protagonism to the other half of it. Obviously, the route goes southwards for the last stages as it's the only mountainous area of the territory. I wanted to insert a stage with some kind of difficulty in the first part of the route, and I barely only found the Gdánsk area with some very short ascents, which would make an interesting stage. After it, a very long transfer is held to take the riders to Warsaw, but it is not so invasive as the third stage is the TT, which gives more time to the teams and the riders. The final climb of stage 6 barely allows to build the installations for the ending of the stage at the top, but a convention centre is placed at the half of the ascent so the podiums and so on could be assembled there, with only the finish line and the minimum logistics necessary at the top. The 25-km long time trial also forces climbers to attack early in the final three stages, as the terrain allows it (specially in the last two of them) in order to recover the possible gap out of Warsaw's ITT.
Stages:
Spoiler!
---
Spettatore
Posts: 1
Joined: 17/06/2019, 12:43
---