Connect with your social network account
Facebook login is not available anymore due to Facebook policy. If you need access to your old account send a mail with username and your actual mail.
IMPORTANT: Routing and Elevation API are limited to 7000 calls per day.
In case they are expired, they won't work until limit is re-charged. You can try in this case to do a GPX on
RideWithGPS
site and import it on the editor
Please don't spam us mail and PMs that we won't answer
and notice that the official language of forum is English.
Roadbooks:
LINK
Comment with us the races in the discussion thread or in the Telegram Chat
2021 Season Contests
Contest #2:
Milan - Rome and Bissagne - Guascogne
-
VOTING
Contest #3:
Improved Spring Classic
Acually I have never been to Romania, but I've heard a bit about it. A friend of mine was on a road trip there, and was impressed with the beautiful landscapes, and not that much with the poverty...
Anyway, Romania is surely a place to explore on a bike or at least with the Stage Editor!
I will propose something, and hopefully you would also join me in exploring Carpathian garden (the official slogan of Ministerul Turismului).
The Sibiu Cycling Tour (SCT) is a 2.1 category professional road race organised since 2011 around Sibiu, Romania. The race is held entirely around the city, and usually includes a short prologue, one flat stage, one time trial (or another flat stage instead), and two hard climbing stages.
I believe the scenic Transfagarasan and Transalpina roads deserve a 7-day bicycle road race.
Welcome to Sibiu Mountain Challenge!
maps/tours/view/10470
The first stage is a traditional short prologue on the cobbled streets of Sibiu historic city centre. I have extended the typical route only by three hundred meters.
maps/viewtrack/241772
The second stage goes to Brasov and has to be considered flat. As it is a mountain challange some small hills are on the way, and the final 2km are going slightly uphill, but it will be a sprinters' show in Brasov.
maps/viewtrack/241782
I propose to explore roads a bit further from Sibiu. Therefore next stage goes from Brasov to a city of Curtea de Arges. It will be a first mountain stage, but with easier second half of the route and a flat finish.
maps/viewtrack/241783
There is no SCT without a finish in Balea Lac. This time depart would be from Curtea de Arges to add some small hills (potentially on a white roads, it's hard to say as there is no streetview) at the beginning if the stage.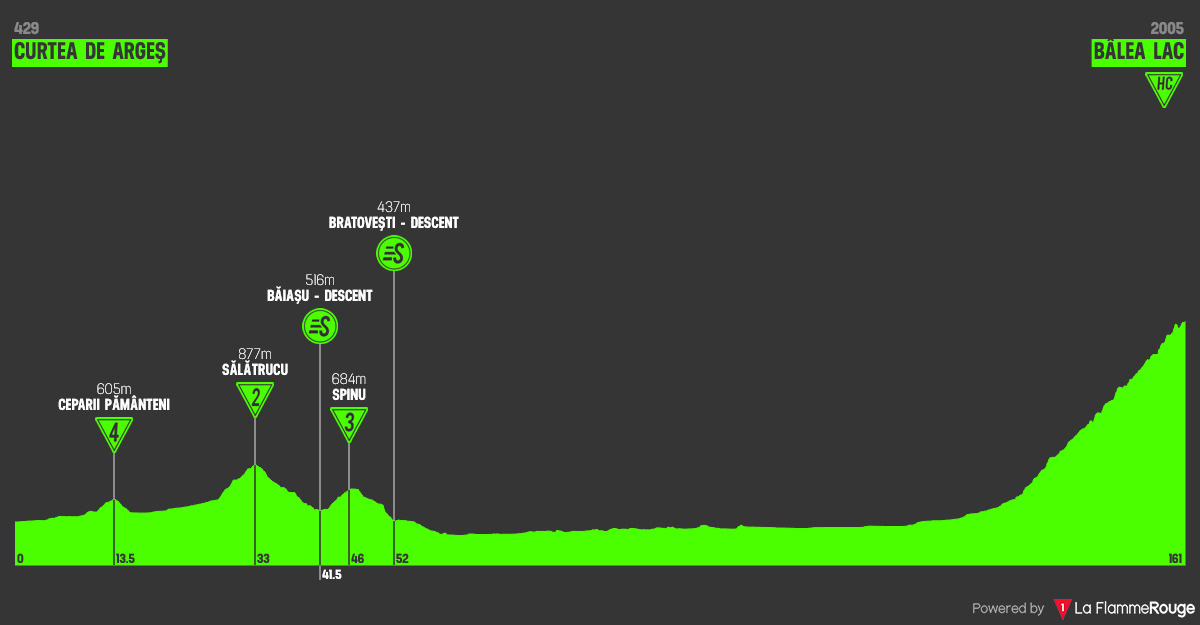 maps/viewtrack/241582
Another iconic finish of SCT is in Palatinis ski resort. To make cycling harder this route includes a very steep climb in Jina.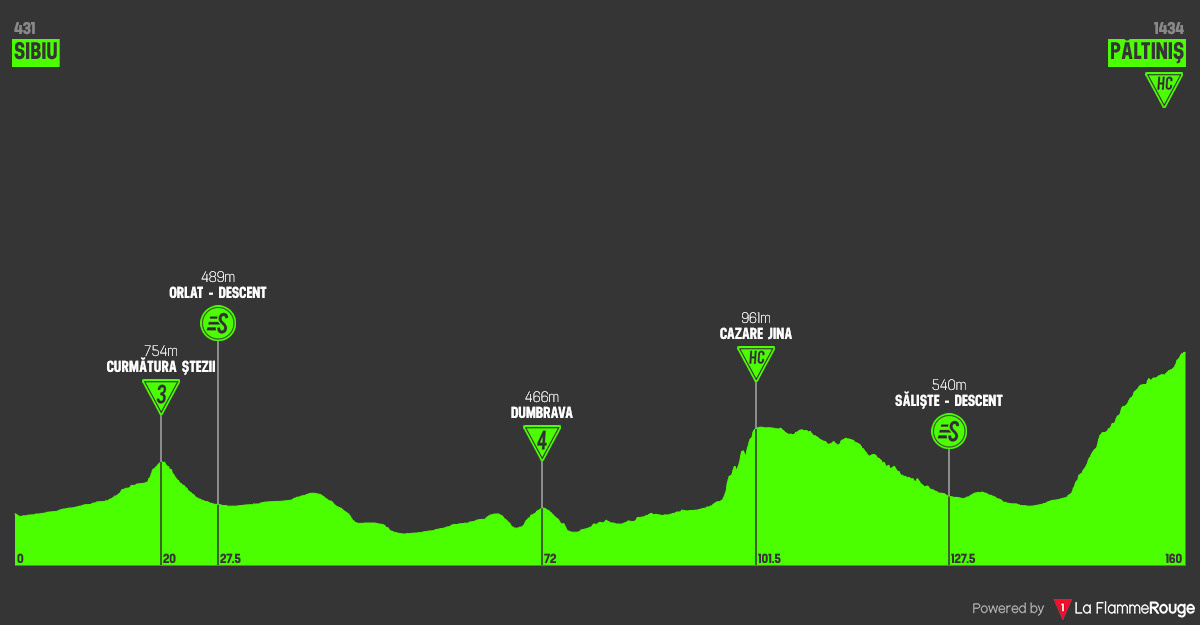 maps/viewtrack/241584
A second time trial, often seen on earlier editions of SCT, has a purpose of shuffling the general classification. As I propose to change the name of the Tour to Sibiu Mountain Challenge it's a pretty long TTT with some hills on the way.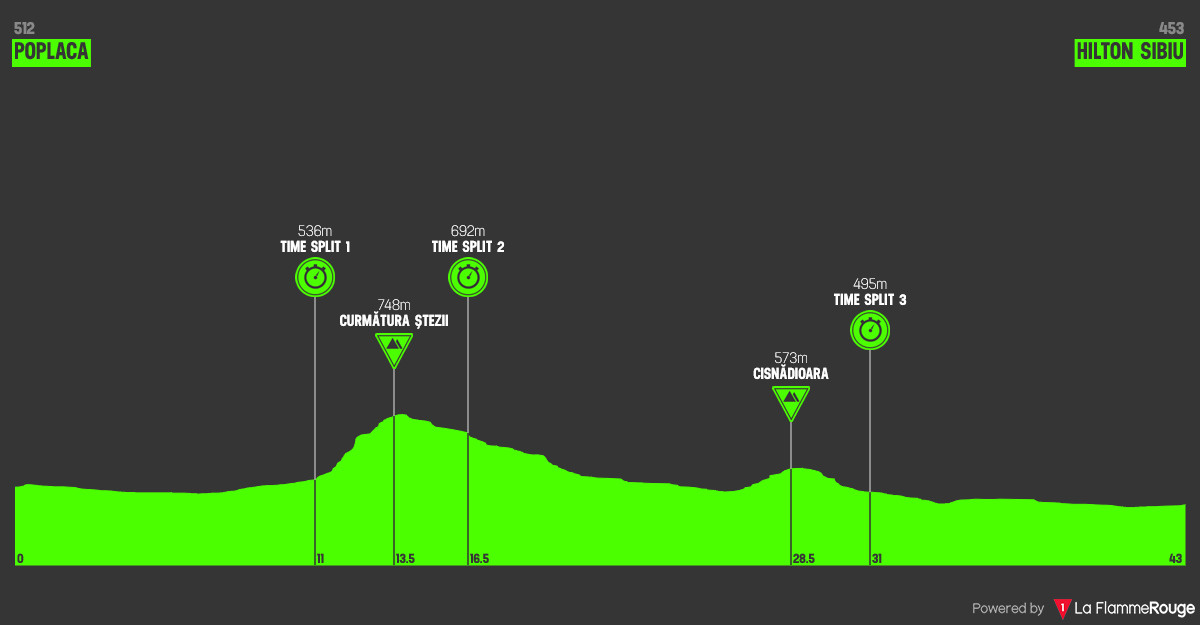 maps/viewtrack/241872
Time for a Queen Stage, 124 kilometers in high mountains that could feature in any Grand Tour. The biggest challenge is at the beginning with the hardest climb in Romania from Novaci to Urdele Pass, but the second part is still very demanding. Only the fittest would survive.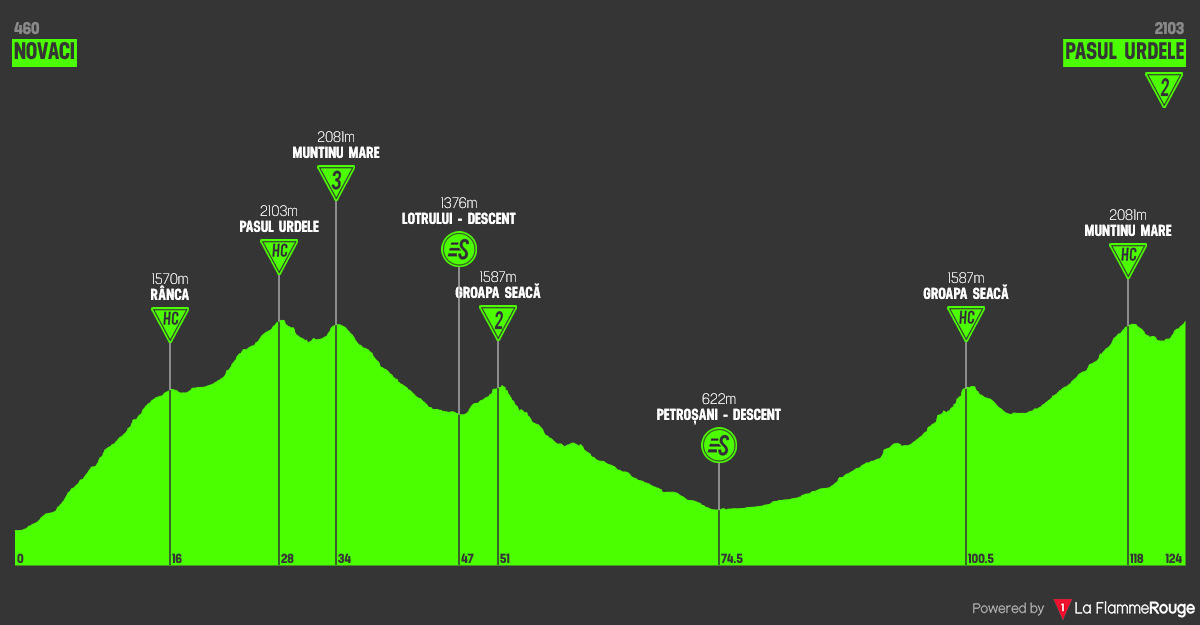 maps/viewtrack/241773